The cryptocurrency market continues to struggle. After recovering slightly to $2.33 trillion earlier this morning, its total cap has since fallen back down to $2.5 trillion. While this is disappointing for anyone hoping for a strong recovery before Christmas, it arguably provides a good opportunity to buy lower priced coins at a discount. Because of this, we've put together a list of the 5 best penny cryptocurrency to buy right now. This covers coins priced at around $1 or under.
5 Best Penny Cryptocurrency to Buy
1. Dogecoin (DOGE)
DOGE has had a good 24 hours, rising by 13%. At $0.181205, it's also up by 2.3% in the past week, but down by 31% in the last 30 days.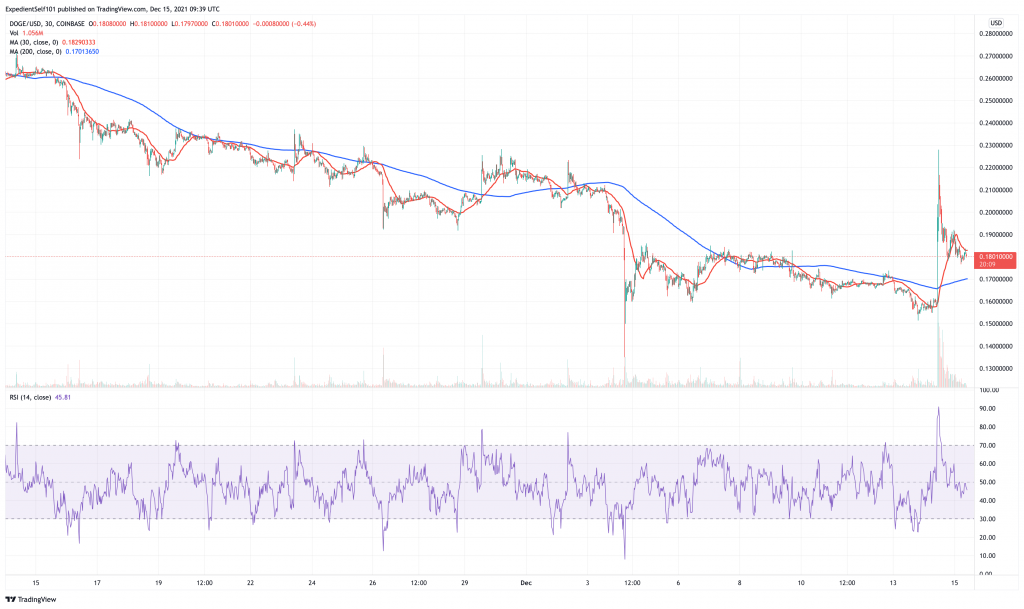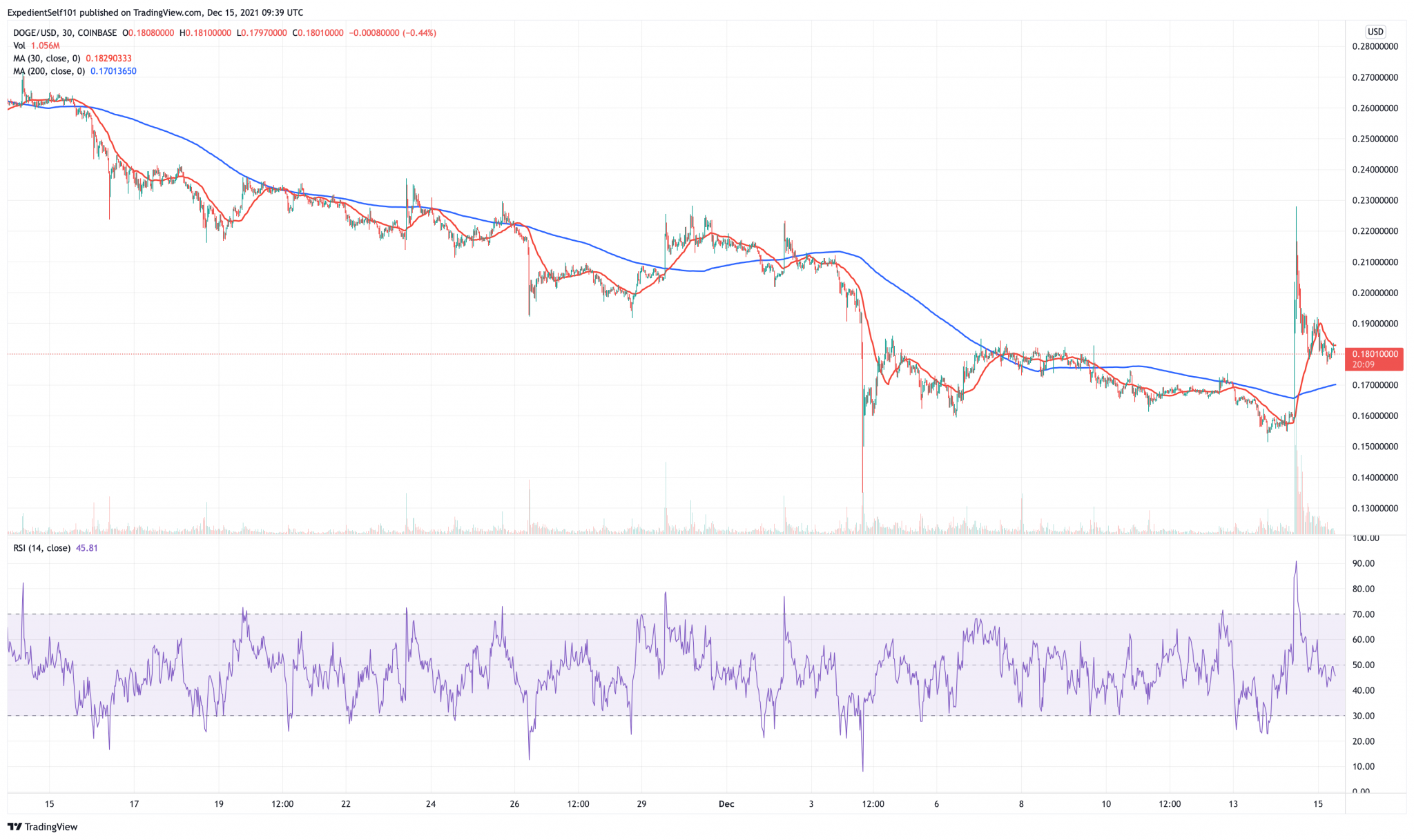 DOGE received a big boost yesterday when Tesla CEO Elon Musk tweeted that the carmaker would begin accepting the cryptocurrency as payment for some of its merchandise. As you can see from the chart above, its relative strength index (in purple) shot up to 90 as traders entered the DOGE market. This number has since declined to just under 50, although the price of DOGE remains comfortably above where it was before the tweet. At the same time, DOGE's 30-day moving average (in red) is still well beyond its 200-day average. This indicates that DOGE may have broken out from its previous level and could be well-placed to continue rising in the near future.
Tesla will make some merch buyable with Doge & see how it goes

— Elon Musk (@elonmusk) December 14, 2021
Indeed, with Musk continuing to champion DOGE in one way or another, expect the coin to continue experiencing episodic rallies in the future. It also boasts a strong community of holders and supporters, with its Reddit page boasting 2.2 million subscribers, up from 177,000 at the beginning of 2021.
It also benefits from promotions by people other than Elon Musk. This one from Binance's CZ is one of the most recent, prior to Musk's tweet.
I'm giving away a DOGE Tesla & $50,000 in $DOGE. Which do you want?

To enter:
🔸Retweet
🔸Follow @elonmusk, @binance, @cz_binance
🔸Have a KYC'd Binance account
🔸Tweet the prize you want & why with hashtags #DOGEorTesla & #Binance

Our favorite answer from each 'team' will win. pic.twitter.com/A2VLB6fh4a

— CZ 🔶 Binance (@cz_binance) November 29, 2021
2. ECOMI (OMI)
OMI is up by 15% in the past 24 hours, rising to $0.00641651. This also represents a 14.7% rise in the past week, although the coin is down by 12% in the last month.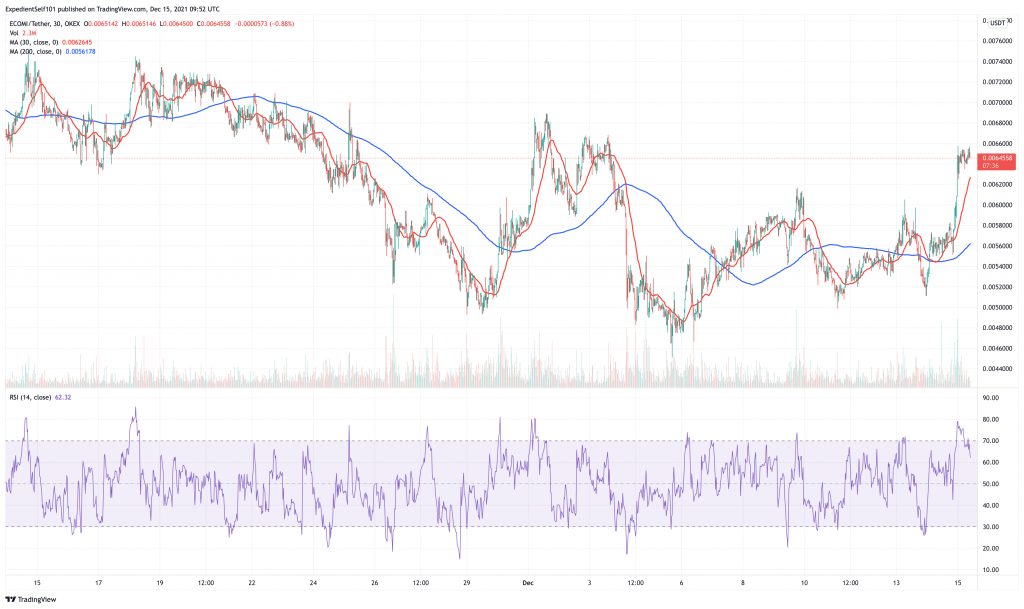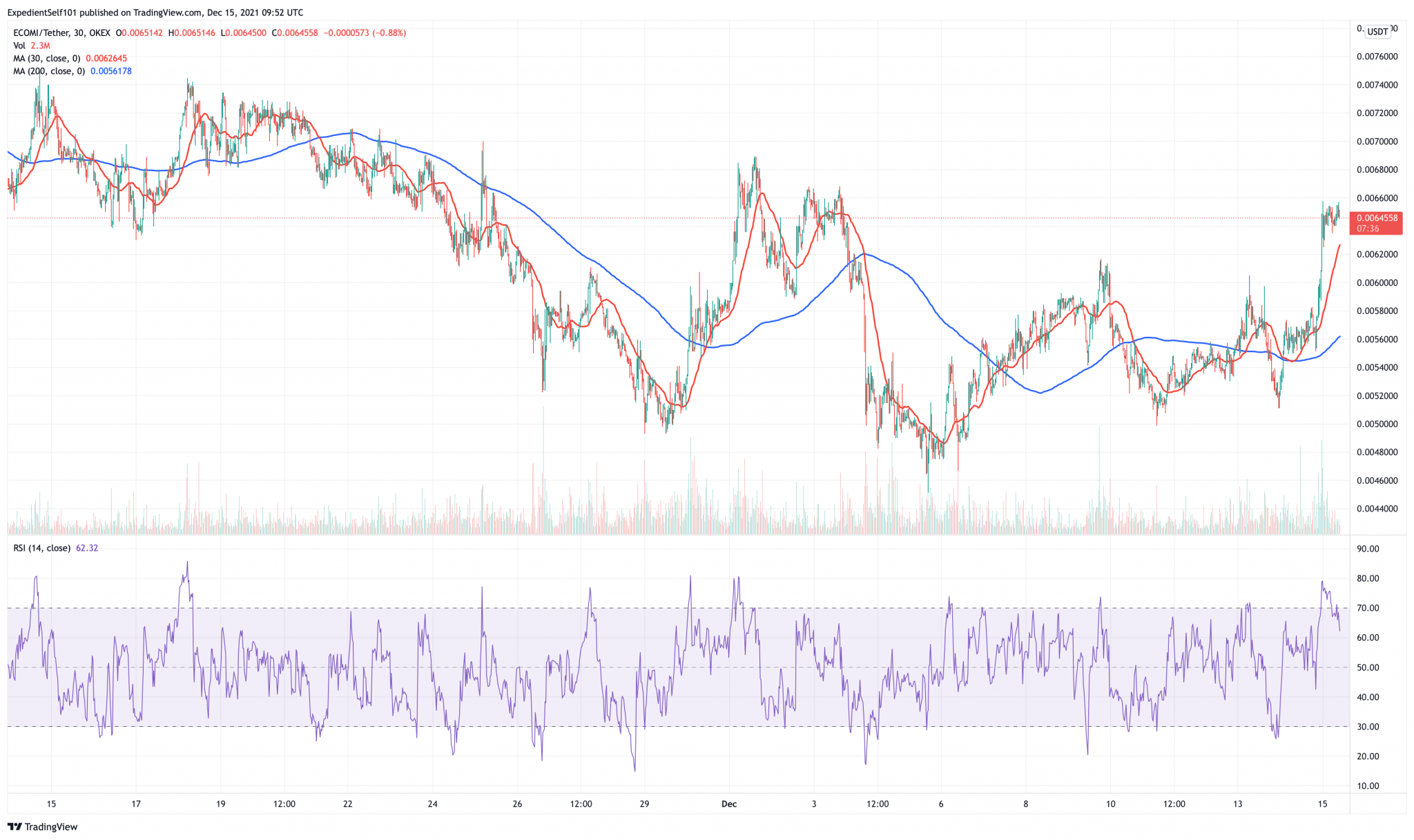 OMI is enjoying strong momentum right now. Its RSI is hovering around 65, having crept into overbought territory earlier this morning. Its 30-day average is also shooting above its 200-day, indicating that it could be reaching new support and resistance levels.
OMI is the native token of ECOMI, a digital collectibles marketplace. Its recent rally is due largely to the fact that it's migrating over to Immutable, a layer-two scaling solution for Ethereum.
Exciting news! Phase 2 of the Immutable migration continues today (14 Dec) from 6PM PT 🥳

During Phase 2, we are re-minting all @veve_official NFTs on Ethereum Layer 2 via @Immutable!

Migration is expected to take 3-10 hrs. We will keep you updated on its completion. [THREAD]

— ECOMI ⭕️ (@ecomi_) December 14, 2021
This will make the platform more scalable and efficient, enabling it to reach more users. And in turn, this should increase demand for OMI, bumping up its very low price.
3. The Graph (GRT)
At $0.641719, GRT is up by 6.8% in the past 24 hours. However, it remains 7% down in the past week and 40% down in the past month.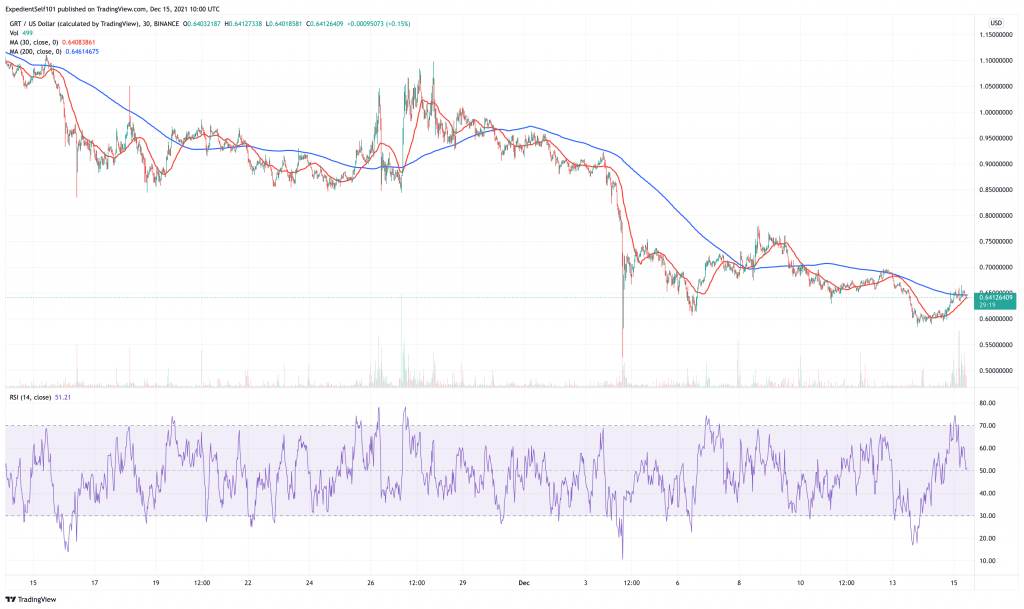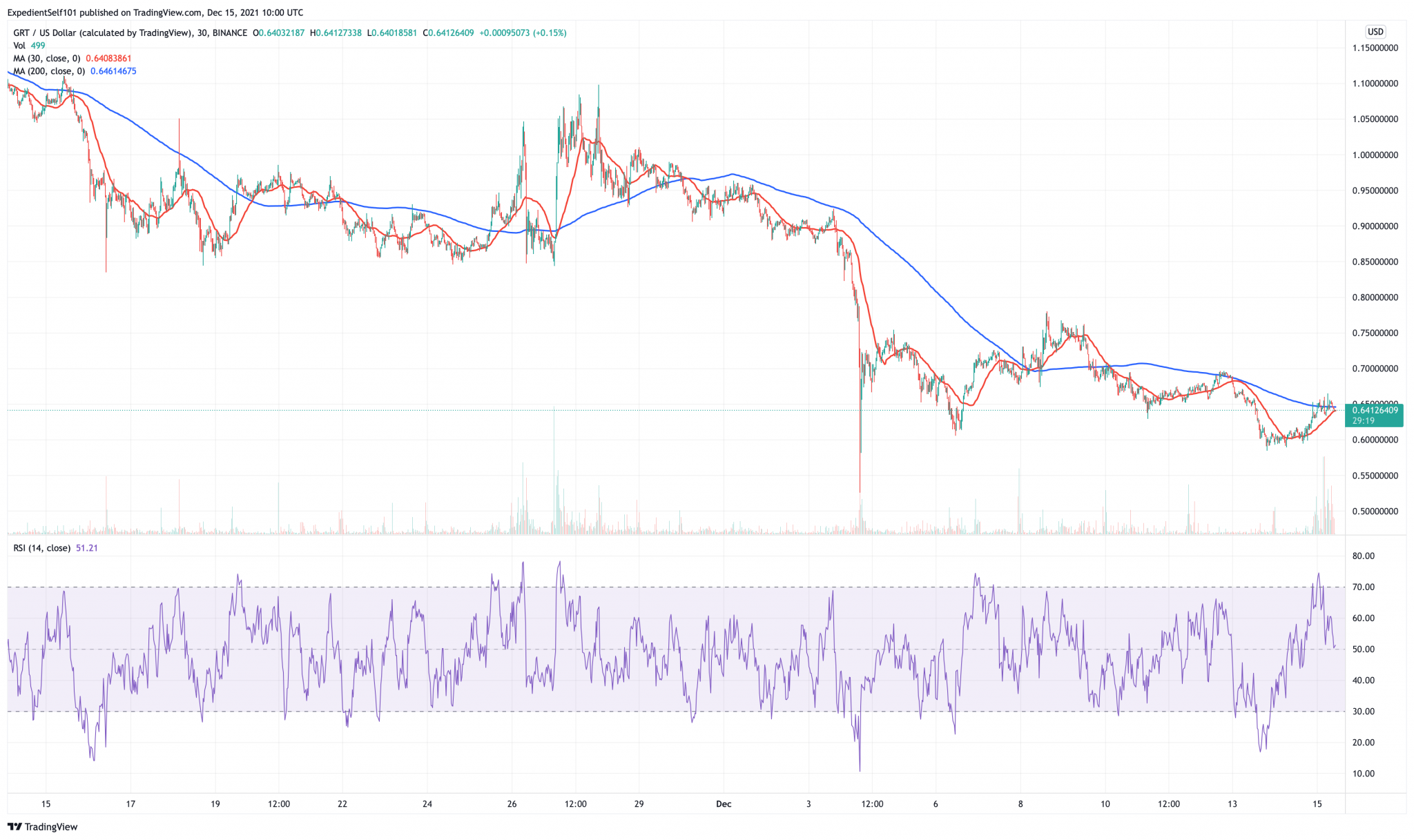 GRT looks like it's on the brink of a breakout rally. It has been declining ever since reaching an all-time high of $2.84 on February 12. This means it has fallen a long way, but by the same token it has plenty of potential to rise back strongly. Its 30-day average is just about to form a 'golden cross' by overtaking its 200-day. This suggests it could rally for a little while longer yet.
GRT is the native token of the Graph, an open-sourced protocol enabling users to collect, process and store data from various blockchain applications. GRT is staked by users of the protocol in order to retrieve and store information.
Celebrating its first birthday, the Graph has also recently celebrated a number of new partnerships and launches. This largely explains its recent rises, as it comes to be used more within the wider crypto ecosystem. It's also why it's one of our 5 best penny cryptocurrency to buy right now.

📣 @auroraisnear is partnering with @graphprotocol!

Aurora, the EVM on #NEAR, will use The Graph to bring superior indexed data to Aurora users and developers.

🤝 This collaboration marks another step towards building a decentralized web.

Read more 🔽https://t.co/IXn1CL8Gys

— NEAR Protocol (@NEARProtocol) December 7, 2021
4. Shiba Inu (SHIB)
SHIB is up by 3% in the past 24 hours, having risen to $0.00003407. That said, this price is a 6% drop compared to one week ago, and a 36% fall compared to this time last month.
SHIB's technical indicators suggest that it could be well-placed for a rebound. Its 30-day average has begun creeping up towards its 200-day, potentially indicating an imminent golden cross. Likewise, its RSI has begun rising up from 50.
As with DOGE, SHIB benefits from a large and loyal following. Its community of holders and supporters are ready to pump the coin at a moment's notice, as this past year has proven.
For instance, its Reddit page now counts around 451,000 subscribers, up from 200,000 in early August.
On top of this, it continues to benefit from positive endorsements and pieces of news. Most notably, retailer Newegg announced at the end of November that it would be accepting payment in SHIB from early December onwards.
Hey #ShibArmy, how we looking on America's largest digital out-of-home billboard? @ShytoshiKusama #Shib

We'll be officially accepting @Shibtoken in by early December via @BitPay https://t.co/MR2ydiQpq6 pic.twitter.com/MyuxHSIjVw

— Newegg (@Newegg) November 30, 2021
5. Radix (XRD)
XRD is up by 17% in the past 24 hours, to $0.271159. This represents, however, a fall of 8% in the past week and of 56% in the past month.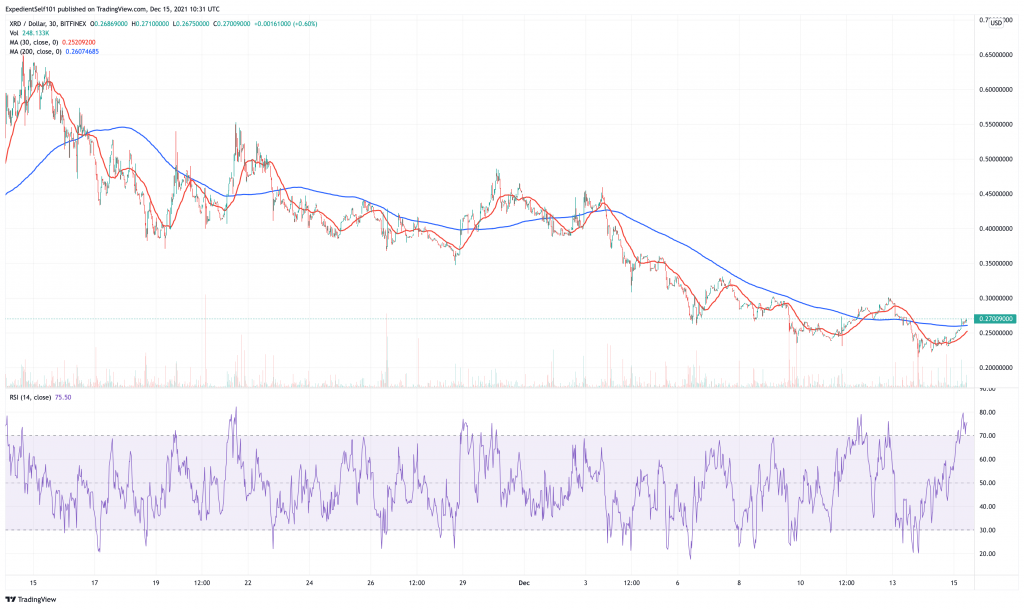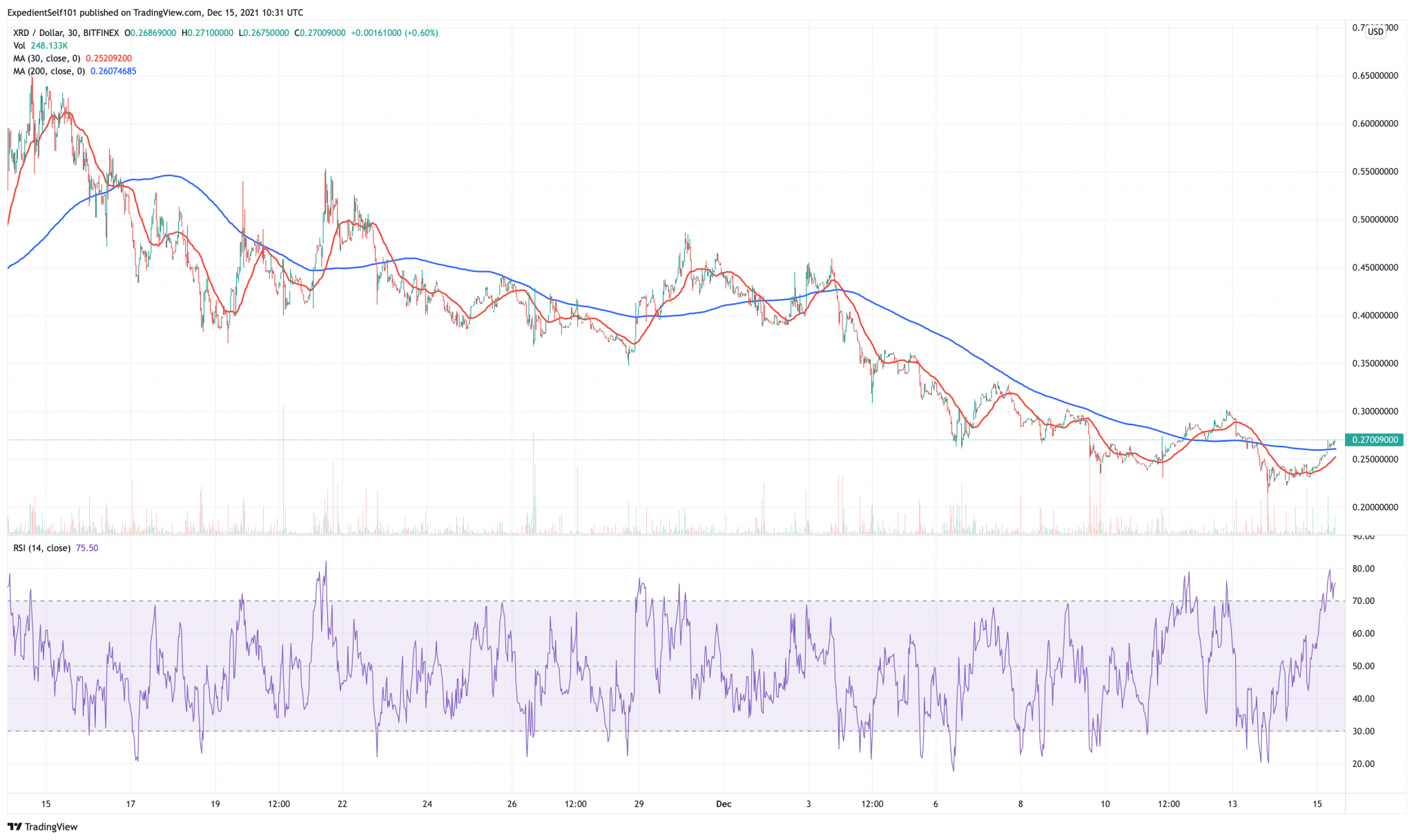 Interestingly, while XRD's RSI suggests very strong momentum, its 30-day average has only just begun rising. It still hasn't crossed its 200-day average yet, suggesting that its current rally may continue for a while yet.
Radix is a layer-one blockchain intended to support DeFi applications. Launched earlier this year, its native token reached an all-time high of $0.651264 one month ago, before declining. As a platform, it claims to be "1000x" more scalable than Ethereum.
Today, it rolled out Scrypto, a streamlined programming language that will help more developers to build more DeFi applications on its network. So far, Radix doesn't show up on 'total value locked in' sites such as DeFiLlama. But thanks to upgrades such as Scrypto, this should only be a matter of time. And once it does, XRD should conceivably rise even higher. This is why it's one of 5 best penny cryptocurrency to buy.
Capital at risk
Read more:
Next Article: what-is-ethereum-in-depth
Next Article: What is a protocol?
Next Article:  Ethereum price