Layer-2 altcoins are among the most popular assets in the market. These coins are critical to the industry's growth as their tied products play a huge role in bolstering the strength of connected blockchains.
Investors who understand value will love layer-2 altcoins. So, here's a review of the best ones that you can invest in this week.
1. Polygon (MATIC)
MATIC kicks off our list of layer-2 altcoins you should invest in. Polygon's MATIC was arguably the project that kickstarted the layer-2 revolution. Today, it has grown to become one of the most popular blockchain projects globally.
The Polygon Network is a scalability solution for the Ethereum blockchain. It allows for the connection and implementation of Ethereum-compatible blockchains, processing batches of transactions and allowing developers to bypass Ethereum's high transaction fees and latency.
At a current price of $1.74, MATIC is up by an impressive 5.62% in the past 24 hours. The asset has been performing pretty well over the past few days. Additionally, it looks to crack the $2 mark once more and banish the demons of January when it dropped as low as $1.3.
Polygon's impressive growth is also a huge driver for MATIC. The network got big praise earlier this year when the Associated Press chose it to launch its non-fungible tokens (NFT) marketplace.
Last week, Polygon announced that it had raised $450 million in its latest funding round from a consortium of top investors, including Tiger Global, Galaxy Digital, and SoftBank.
The network's developers have claimed that the funds finance the growth of Polygon's suite of services. Also, a part of the fund will go into Web3 projects across the industry. As Polygon continues to grow, we see huge prospects for MATIC.
2. OMG Network (OMG)
Next on our list of top layer-2 altcoins is OMG, the native token for the OMG Network.
Also running on the Ethereum blockchain, OMG Network uses liquidity from different sources to power transactions. It allows users to move money and digital assets between different points easily. Thus creating a broad financial market for everyone to play in.
OMG has been trading at a discount all year. Its value has dropped by 15% since the beginning of 2022, making it available at a great price right now for investors looking to enjoy gains.
However, In the past 24 hours, OMG's price has jumped by an impressive 5.43%. Compare that to the broader market, which has gained about 4% in the same period.
Unlike Polygon, OMG doesn't have much in terms of news. The biggest development for the asset remains its listing on Kraken last month, which offered exposure to Japanese investors.
But, despite the lack of news, OMG and OMG Network hold an important place in the market. As adoption continues to grow, prices should surge just as well.
3. Bancor (BNT)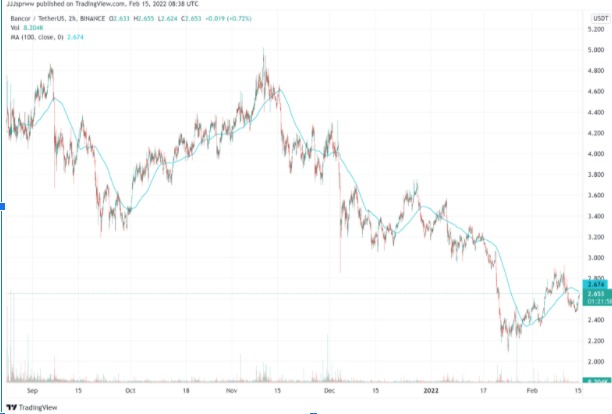 Bancor is another impressive layer-2 project that's starting to make some waves. So it's no surprise that Its native token, BNT, features on our list of the top layer-2 altcoins.
While many layer-2 protocols focus on improving transaction efficiency, Bancor focuses on the decentralised finance (DeFi) space. It operates like an automated market maker (AMM), allowing investors to pool funds and support DeFi protocols. These investors get paid interest and fees charged by the protocol.
It's been an interesting 2022 for BNT. The asset was removed from the Grayscale DeFi Fund — a move that doesn't tell of good investor sentiment. Then, weeks later, top broker eToro added BNT to its supported coins list, demonstrating investor confidence.
With a current price of $2.67, BNT is up an impressive 5.78% in the past 24 hours.
BNT investors will hope that the DeFi space gets back to its former glory as they hope to get value for BNT. Coming off a year when the asset delivered a modest return of 157%, investors will want to get additional value for their money.
4. Loopring (LRC)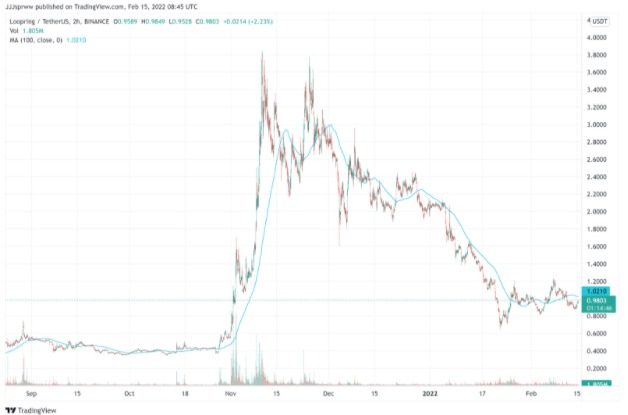 Certain cryptocurrencies tend to pack a punch but don't get nearly enough fanfare. Such is the case for LRC, the native token for Loopring.
Loopring is a layer-2 software that runs on Ethereum and aims to support the creation of crypto exchanges. Loopring claims to enable exchange creation. This way, developers can avoid the high fees and slow speeds experienced by Ethereum-based decentralised exchanges (DEXs)
Using zero-knowledge (zk) rollups, Loopring hopes to improve transaction optimisation. It handles the transaction settlement tasks elsewhere, ensuring that clogs on Ethereum don't affect its transactions.
LRC has been making some quiet moves. It was recently added to Public – a crypto trading platform – where it'll get exposure to more investors. There have also been rumours of a partnership between Loopring and GameStop, although these are no more than just stories.
With a current price of $0.98, LRC is up 6.45% in the past 24 hours.
5. Celer Network (CELR)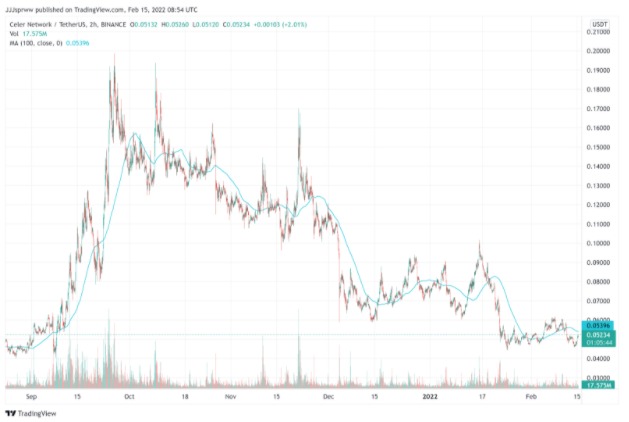 CELR, the native token for Celer Network, rounds out our list of the top layer-2 altcoins in the market. Celer Network is a scaling solution that offers cheap, quick, and secure off-chain transactions for payments and smart contracts.
Celer Network allows anyone to build and operate scalable decentralised applications (dApps) via its off-chain infrastructure. Its top features include horizontal scalability, free off-chain smart contracts, and up to 10,000x on-chain latency reduction compared to Ethereum.
Last week, Celer partnered with YuzuSwap – a DEX – to launch a liquidity mining program. The program, called Oasis, is expected to boost liquidity for YuzuSwap's ceUSDC/ROSE pool.
While that probably isn't the only reason for CELR's 6.63% jump in the past 24 hours, investors can still feel confident about the asset's growth prospects.
---
Sign up now: Get Smarter about Cryptocurrency with our weekly Free newsletter

Do you have any question?  Reach out to us in Quora or any other social media, we will do our best to respond After you are Following Us  🙂
Instagram ——Twitter——-Facebook——Quora
Do you like the Article?  Please share   Thank you… Under here we will share same others post you might like
**this post contains affiliate links that will help me create new content without additional cost for you **
**I'm not a financial advisor **
**this post contains affiliate links that will help me create new content without additional cost for you **
**I'm not a financial advisor **
Next Article: Is crypto the future?
Next Article: Scammers turn their attention to NFT as the crypto subsector
Next Article: What are Cryptocurrency NFT? How do they Work?