Join Our Telegram channel to stay up to date on breaking news coverage
Today's market data indicates a slight decrease in the global crypto market capitalization, with a concurrent increase in trading volume. The market is taking a break from the consistent rally it saw since last until Wednesday. The crypto market capitalization currently stands at $1.07 trillion, reflecting a minor 0.26% decrease in the previous 24 hours. 
In contrast to the dip in market capitalization, the total crypto market volume over the past 24 hours has seen a notable 1.04% increase, totaling $28.08 billion. This uptick in trading volume indicates heightened activity within the crypto space, suggesting active trading and investor engagement.
The decentralized finance sector continues to expand, with its 24-hour trading volume currently at $2.28 billion. This accounts for 8.14% of the total crypto market's 24-hour volume. Stablecoins have a 24-hour trading volume of $25.85 billion, constituting 92.06% of the entire crypto market's 24-hour trading volume. 
Bitcoin holds a dominance rate of 49.21%, marking a slight 0.03% increase over the day. The next cryptocurrency to explode will emerge from this situation, nevertheless.
Asian stock markets took a cue from Wall Street on Thursday, experiencing widespread declines as investors interpreted the US Federal Reserve's recent policy statements as a signal of extended higher interest rates.
Forecasts for 2024 exceeded general expectations slightly, and the Fed's statements suggested that macroeconomic growth would remain resilient even in the face of prolonged higher interest rates.
Next Cryptocurrency to Explode
On Wednesday, the US central bank left interest rates unchanged. It projected a year-end increase, indicating that monetary policy is likely to be considerably tighter through 2024 compared to previous assessments.
The median prediction for the federal funds rate by year-end now stands at 5.1%, a notable increase from the 4.6% estimate provided in June.
1. Bitcoin BSC (BTCBSC)
Listed cryptocurrencies face challenges occasionally, but it is not so for those in their presale phase. Bitcoin BSC recently achieved significant success by raising over $3.9 million in its ongoing crypto presale. Impressively, it is now on the verge of surpassing 99% of its soft cap target.
The project's remarkable traction can be attributed to its advantages compared to the original Bitcoin (BTC). Unlike BTC, which operates on the Bitcoin blockchain, Bitcoin BSC is built on Binance's BNB Smart Chain, bringing several key benefits.
🚀 A phenomenal milestone for #BitcoinBSC!

Exceeding the $3.6 million milestone!

Thanks to everyone who has shown their support!

Join the #Presale today and be a crucial part of the #Stake2Earn revolution! 🎉https://t.co/oM0YP8IlbV pic.twitter.com/0I5FWv816P

— Bitcoinbsc (@Bitcoinbsctoken) September 20, 2023
One of the standout features of the BNB Smart Chain is its exceptional transaction processing speed, which surpasses the Bitcoin blockchain by hundreds of times. This remarkable speed makes Bitcoin BSC particularly well-suited for applications in the decentralized finance sector, trading, and beyond. Additionally, its cost-effectiveness allows Bitcoin BSC investors to send tokens without being burdened by exorbitant blockchain fees.
This discrepancy in cost could position Bitcoin BSC as a practical solution for everyday peer-to-peer payments. Bitcoin has long aspired to that goal but has yet to realize it.
Another significant advantage of Bitcoin BSC is its staking capability, offered through the BTCBSC token. Staking contributes to transaction validation on the network and allows stakers to earn additional BTCBSC tokens.
Staking rewards are distributed at 10-minute intervals, mirroring the Bitcoin block mining rewards schedule. Nearly 70% of the token supply is earmarked for staking rewards, which will continue to be distributed until approximately 2140.
The rewards received by BTCBSC stakers are directly tied to their share of tokens in the staking pool. Consequently, early investors stand to gain substantial rewards while the circulating supply of BTCBSC remains relatively small.
During the presale phase, Bitcoin BSC is priced at a modest $0.99, reminiscent of Bitcoin's early days in 2011. This presents an opportunity for investors to enter the market early and capitalize on the growth potential of this cryptocurrency before it experiences a surge in value.
Investors are encouraged to act swiftly, as the presale may close once Bitcoin BSC reaches its soft cap. This opportunity offers a chance to engage with a promising cryptocurrency project that could reshape the landscape of digital assets. Evidently, Bitcoin BSC is the next cryptocurrency to explode.
Visit Bitcoin BSC.
2. Astar (ASTR)
The Astar (ASTR) network has positioned itself as a pivotal player in addressing the pressing issue of scalability within Web3 technology, a paramount requirement for decentralized application (dApp) creators. The platform brings distinctive features, such as operator trading and dApps rewards, marking it as a trailblazing innovation within the blockchain landscape.
Astar's innovative Multi-Lockdrop strategy plays a crucial role in ensuring the widespread distribution of native tokens, thereby fostering the growth of a resilient and expansive ecosystem. Astar substantially enhances performance metrics by tackling the scalability challenges that plague many blockchains. This includes delivering more Transactions Per Second (TPS), lowering transaction costs, and achieving faster finality, all of which contribute to a smoother and more efficient blockchain experience.
💥 Supernova is here! 💥

We are excited to announce that we will work with @0xPolygonLabs!

Together, we will deliver Astar zkEVM: the Ethereum Layer 2 scaling solution powered by Polygon's CDK.

Here, @WatanabeSota & @sandeepnailwal share this groundbreaking announcement. pic.twitter.com/23hSlvUu1G

— Astar Network (@AstarNetwork) September 13, 2023
Amidst the many enticing opportunities within the cryptocurrency market, Astar emerges as one of the most outstanding contenders for DeFi enthusiasts seeking long-term investment prospects. This project showcases a commitment to pioneering technology, innovative solutions, and the potential to yield substantial gains in the ever-evolving world of decentralized finance.
The ASTR token has surged 9.22% to $0.05724 in the last 24 hours. It is part of the crypto assets expected to see a bull run and become the next cryptocurrency to explode. The next phase is guaranteed as Astra announced a partnership with Polygon Labs to create its Astar zkEVM scaling solution.
3. Algorand (ALGO)
Algorand (ALGO) recently broadened its ecosystem, introducing innovative features that could enhance its utility. Notably, tinyman.algo has unveiled "The Swap Widget," a user-friendly tool that allows anyone to swiftly integrate and enable swapping functionality within any Algorand-based decentralized application.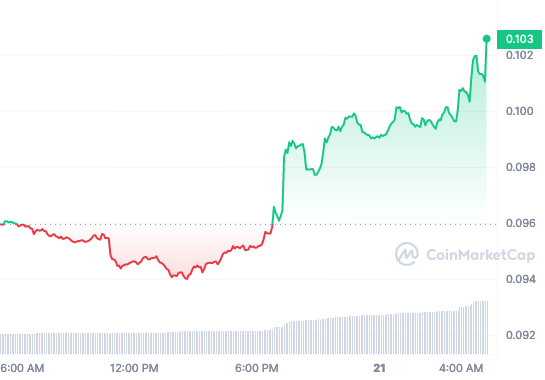 Furthermore, Pera.algo has made waves by announcing the addition of Audio File support to its platform, further diversifying the capabilities of the Algorand network. These enhancements offer promising prospects for increased Algorand crypto usage, raising questions about the cryptocurrency's future value.
Analyzing the on-chart data, Algorand has exhibited a trading range of $0.09 to $0.10 over the past week. The cryptocurrency is on an upward trajectory, with a 3.2% increase in the last 14 days and a positive momentum pattern. As per Algorand's price predictions, there is optimism that it could potentially surge to $0.19 by the fourth quarter of 2023. 
The growing Algorand ecosystem and the introduction of user-friendly features like "The Swap Widget" and Audio File support underscore the blockchain's commitment to innovation and usability. This and positive price trends fuel speculation about how far Algorand's value can climb and become the next cryptocurrency to explode.
4. Immutable (IMX)
Immutable (IMX) has faced a recent decline in its fortunes, but the landscape is evolving with new developments that hint at a potentially bright future. One of the most notable of these developments is the commitment of Meta Toy City to build on the Immutable zkEVM (Zero-Knowledge Ethereum Virtual Machine).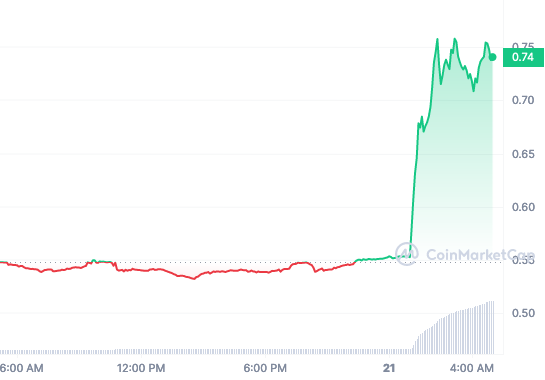 Meta Toy City, with the strong backing of Sandbox Network, has achieved a significant milestone by securing over $2 million in funding for their casual mobile Massively Multiplayer Online Role-Playing Game (MMORPG). This strategic collaboration, combined with the increasing interest generated by the project, suggests that Immutable may be poised for an upswing. Consequently, the Immutable X token could embark on an upward trajectory soon.
Industry experts maintain an optimistic outlook, underscoring that as additional partnerships materialize, the Immutable X price is likely to experience growth. As a result, they foresee the potential for Immutable to trade within the range of $1.61 to $1.79 by the end of this year.
It feels good to see #Immutable in Japan! pic.twitter.com/v8HQXIrhBf

— Immutable (@Immutable) September 21, 2023
While Immutable has navigated challenges, these recent developments and the support of strategic partners signal a renewed sense of optimism for the project's prospects, creating a positive atmosphere for investors and enthusiasts alike. With this, IMX is sure to be the next cryptocurrency to explode.
Read More
Ends Soon – Wall Street Memes
Early Access Presale Live Now
Established Community of Stocks & Crypto Traders
Featured on Cointelegraph, CoinMarketCap, Yahoo Finance
Rated Best Crypto to Buy Now In Meme Coin Sector
Team Behind OpenSea NFT Collection – Wall St Bulls
Tier One Exchange Listings September 27
Tweets Replied to by Elon Musk
Join Our Telegram channel to stay up to date on breaking news coverage