12 best cheapest crypto to buy with potential. Who will be the next Bitcoin? Let's find out!!!
Verasity (VRA) 0,0034$
UFO Gaming (UFO) 0.00000190$
Nervous Network (CKB) 0.00339784$
Polygon (MATIC) 0.882467$
Cardano (ADA) 0.360782 $
Algorand (ALGO) 0.309805$
XRP (XRP) 0.454790$
Handshake (HNS) 0.03605130$
Fantom (FTM) 0.204643$
GalaGames ( GALA) 0.03326414$
Avalance (AVAX) 15.95$
Quant (QNT) 174.97$
Price source https://www.coingecko.com
Are you looking for the next Bitcoin? Here you have it! the 12 best cheapest cryptos to buy with potential we are keeping an eye on!
You may ask what do we mean by "potential"? And we say the potential to be the next Bitcoin, to have a high ROI, or simply to have a good project behind.
Some of these cryptos are very new in the market and some have been around for a while but all of them share one thing in common: they are cheap! So if you want to invest in crypto but don't want to spend too much money, this is the list for you.
But first, let me explain what we mean by "cheap":
For this article, we consider cheap cryptos whose price is below $1. We know that there are some very good projects with prices below this threshold but for the sake of this list, we decided to keep it at $1.
Yes, I know in the list there are only 10 below $1 and not 12 but the last 2 have the motive to stay there and I'll tell you later why!
By the way, do you know what ROI means? It's the "Return Of Investment" and for this list, we want those cryptos with a high ROI so you can make more money with your investment!
In the trading world, there's a general idea that "the trend is your friend." This means that you are more likely to make money if you trade in the same direction as the overall market.
When it comes to cryptocurrency, there's also a general idea that cheaper coins have more potential. The thinking here is that since they're cheaper, they have more room to grow. So, if you're looking for potential winners, cheap coins may be a good place to start.
Everybody is hunting the next "wave", the big move that will make you super rich. If you are reading this, you are probably one of those people or you are just looking for new ideas and moving your first steps into the crypto world. In any case, trading is hard, it requires a lot of knowledge, dedication, discipline, and also luck.
The big question is: which coin will make the next big move?
There are a lot of variables that go into trying to answer that question. But one thing you can do is look at coins that are cheap right now and have the potential to grow.
In this article, we'll take a look at the 12 best and cheapest crypto to buy with potential cryptocurrencies. 10 of them trade for less than $1 and have strong fundamentals plus 2 over 10$. We included them because for us these 2 coins can have a huge move in the future, and they still are cheap to buy.
Cheapest cryptocurrency that has a bigger potential?
Coins that are cheaper have a higher potential for price appreciation than more expensive coins. The reason is simple: there's less distance to go up. Moreover the cost! Buying 100 coins of Verasity is cheaper than buying 100 coins of Bitcoins.
Example. With $100 you buy 0,00518054 Bitcoin with the current price, but you buy 29411,7647 Verasity coins with the same amount!
Imagine now if both increase their value by 10% … with Bitcoin, you earn $10 but with Verasity you earn $2941,17!
The math is simple: the lower the price, the bigger the potential return. Of course, this also means that there's more risk involved. So, you need to be careful and do your research before buying any cheap coin.
The more units you can buy for your investment dollar, the higher your potential return is. That's why people say "the trend is your friend." When prices are going up, it's easier to make money because there's more distance for the price to move in your favor.
The same logic applies in reverse when prices are falling. When a cheap coin starts falling in price, it can fall much further and faster than a more expensive coin. The reason is that there's less distance to go down.
Of course, this doesn't mean that every cheap coin will go up in price. There are many factors that go into whether or not a coin will rise or fall in price. But all else being equal, cheaper coins do have more potential.
Which crypto to buy today for the long term? What do you need to look for before buying?
When you're looking for a cheap coin with potential, there are a few things you should look for:

1. A strong team:

Look for a team with experience in the industry.

A strong team is critical to the success of any business venture. Look for a team with experience in the industry and a proven track record of success. The team should be able to work together harmoniously and have complementary skill sets.

2. A well-developed product:

The product should be complete or close to complete. It should also have a roadmap that outlines the team's plans for future development.

3. A large and active community:

The coin should have a large community of users who are active and engaged. The developers should be invested in the success of the coin, and there should be a community of investors who are supportive.

4. A low price:

The price should be low relative to other coins in the market. This will make it more affordable for people to invest, and perhaps increase the demand for the coin. If the price is too high, people may be deterred from investing.

5. A high market cap:

The coin should have a high market cap, which means it's being widely traded and is therefore more valuable. A high market cap is an important factor to consider when investing in a coin.

6. A well-known exchange listing:

The coin should be listed on a well-known exchange in order to ensure its success. Some of the most oft-cited and reputable exchanges include Binance and Kucoin. By being listed on the major exchanges its overall visibility and value are highlighted. This will increase the liquidity and volatility of the coin and make it more accessible to investors.
12 best cheapest crypto to buy with potential: Explained
Remember: we are not financial advisors and this is not financial advice. Please do your own research before investing in any cryptocurrency.
Keep an eye on the coins and make your own valuations before buying any of them.
Without further ado, here are 12 of the best cheap cryptos to buy in 2022: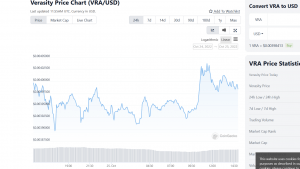 Verasity (VRA) is a blockchain-based platform that enables content creators to monetize their videos. Viewers can earn rewards by watching and interacting with videos on the Verasity platform. The VRA token is used to power the Verasity ecosystem.
Verasity's innovative software allows content creators to easily embed a video player on their website or blog. The player includes a wallet that enables viewers to earn rewards for watching and interacting with videos. Verasity's decentralized distribution system ensures that videos are seen by the people who are most likely to engage with them, resulting in higher rewards for content creators.
Verasity is committed to building a fair and sustainable ecosystem for content creators and viewers. The Varsity team has a deep understanding of the online video industry and is building a best-in-class platform that will revolutionize the way video content is monetized.
Verasity's chart looks very promising from a technical analysis perspective. It's moving sideways for a long time on the support level.
The market seems to be ripe for a breakout, and Verasity looks like it could be a major player in the space. Verasity is well-positioned to capitalize on the growing demand for video-based content. I expect we will see a significant upside in the coming months as more people discover this gem of a coin.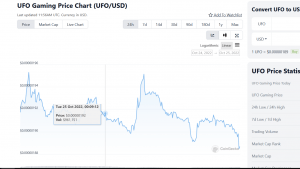 UFO Gaming is the ultimate in gaming accessories. It is a must-have for serious gamers who want to take their game to the next level. UFO Gaming provides an immersive gaming experience with its unique features and design.
UFO Gaming is the perfect way to enhance your gaming experience. It gives you the feeling of being in the game, rather than just playing it. The built-in speakers provide superb sound quality, while the ergonomic design ensures hours of comfortable gaming. UFO Gaming is also easy to set up and use, so you can get started right away.
It touched the bottom in the summer and now is consolidating the new support base on a higher level. It's going sideways right now probably accumulating strength for the bigger move when the time comes.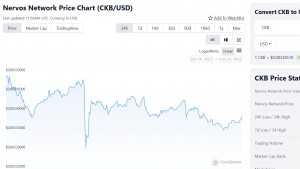 Nervous Network (CKB) is a cryptocurrency and blockchain platform designed to provide security, scalability, and decentralization for digital assets and applications. CKB is the native token of the Nervous Network and is used to secure the network and power its operations. The Nervous Network is composed of two main layers: the Layer 1 Nervous Common Knowledge Base (CKB), which is a public blockchain, and the Layer 2 Nervous Cell Model (NCM), which consists of private blockchains that are anchored to CKB. CKB provides immutable security and decentralized governance for digital assets, while NCM enables scalable, confidential transactions and data sharing. Together, these two layers provide a trustless foundation for next-generation applications.
The Nervous Network ICO raised $30 million USD from some of the most prominent investors in the cryptocurrency space, including Polychain Capital, Sequoia China, Fenbushi Capital, DCM Ventures, DNA Fund, Vertex Ventures, Arrington XRP Capital, Hashkey Capital, Web3 Foundation, and more.
The chart shows us that CKB is still going down a downtrend.
It hasn't reached the bottom yet as all the picks are at a lower level.
Definitely not the right moment to buy yet but the lower the better, right?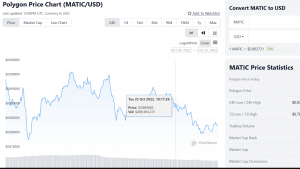 Polygon is the native token of the Polygon network. It is used to facilitate transactions on the network and power all the applications built on top of it. Polygon is a scalable Ethereum platform that enables quick and easy integration of applications built on Ethereum. Polygon makes it easy to build and manage decentralized applications, without having to deal with the scalability issues that have plagued Ethereum in the past. With Polygon, you can easily scale your app to support millions of users, without having to worry about congestion or high transaction fees. Polygon is also fully compatible with all existing Ethereum wallets and applications, making it the perfect platform for developers looking to build decentralized applications.
The positive trend is there! it reached the $1 mark but it failed the breakthrough resetting on the support level on the $ 0,70 -ich.
Now it's going to the dollar mark again so let's see if it breaks it. If it does, it probably will run around the $1,50 area where it broke the last support area in March.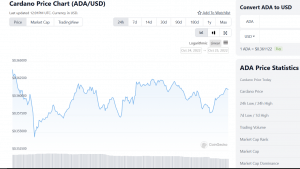 Cardano is a cryptocurrency that is closely linked to the Ethereum blockchain. In fact, Cardano was developed by one of the co-founders of Ethereum, Charles Hoskinson. Cardano aims to improve upon some of the shortcomings of Ethereum, as well as provide a more user-friendly platform for developers. One key difference between Cardano and Ethereum is that Cardano uses a proof-of-stake consensus algorithm, while Ethereum uses a proof-of-work consensus algorithm. This means that Cardano is more energy efficient than Ethereum.
The downtrend is ongoing, it hasn't reached the bottom yet. Good for quick shorts. For the long trend, we need to wait for the reversal of the current trend. But as always the lower the better.
Algorand is a cutting-edge cryptocurrency that offers unbeatable speed, security, and decentralization. Powered by a unique consensus algorithm, Algorand is able to process thousands of transactions per second without sacrificing security or decentralization. With Algorand, you can send and receive payments instantly, securely, and without fees. And because it's built on a decentralized platform, Algorand is censorship-resistant and immune to attack.
The reversal of the trend is coming. At least from what we can see today. It has a higher high and keeps a higher low. So that means it can possibly run up shortly if it doesn't break the current support level of $ 0,31-ich.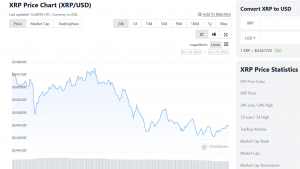 XRP is a digital asset that enables instant, peer-to-peer payments across the globe. XRP can be used to purchase goods and services, or sent to others for free. With XRP, you can move money around the world quickly, easily, and at a low cost.
XRP had a nice run last month and now it's fading back.
Let's see if it starts to create a base as support and a side trend to accumulate strength to break the resistant level of the $0,50-ich mark.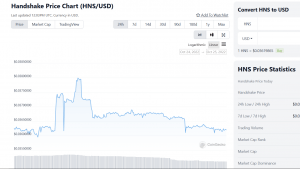 If you're looking for a secure, decentralized way to send and receive money, look no further than Handshake (HNS). WithHandshake (HNS), there are no central authorities or intermediaries – just you and the person you're sending money to. Transactions are fast, secure, and confidential. Plus, Handshake (HNS) is built on blockchain technology, so it's incredibly robust and scalable. So whether you're sending $5 or $5 million, you can rest assured that your transaction will go through without a hitch.
The downtrend sims are slowly changing into a sideway.
It has scored +10% from the last week, but it's to early to see where it will be going.
Let's see if it continues that way or if it starts to pick up some strength to go against the current trend.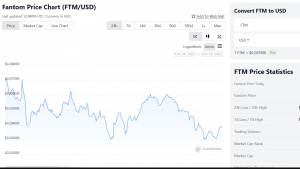 Introducing Fantom, the world's first decentralized cloud platform. Fantom offers infinite scalability, high throughput, and low-cost infrastructure for distributed applications. Unlike other blockchain platforms, Fantom uses a unique consensus algorithm that allows it to process tens of thousands of transactions per second. This makes Fantom the perfect solution for enterprises and businesses that need fast, reliable, and decentralized solutions.
Fantom is built on a revolutionary new technology called the Opera Chain. Opera Chain is a high-performance blockchain that can handle large amounts of data and transactions. It is also more energy-efficient than other blockchains, which makes it more environmentally friendly.
The last higher high hasn't been confirmed with a higher low, so the downtrend is still there. However, the bottom line seems to be the $0,20.
I wouldn't trade this coin right now as there's no clear reversal trend. Let's give it some time to develop the new trend or confirm the old one.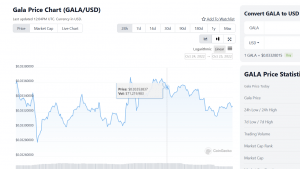 GalaGames is a social media gaming platform that allows you to connect with friends and compete in a variety of fun and challenging games. With GalaGames, you can discover new games to play, chat with other gamers, and earn rewards for playing your favorite games. Whether you're a casual gamer or a hardcore competitive player, there's something for everyone on GalaGames.
After the parabolic run of last year, it has faded its way back even lower from where it started the run. The downtrend is still there. If it starts to create a base then it will be a good investment as it has a proven record to be a "runner".
Avalanche is a new decentralized platform that enables global financial inclusion by providing instant, secure, and low-cost access to the traditional financial system. Avalanche is the first truly trustless and decentralized platform that can support billions of users and millions of transactions per second. By combining Blockchain technology with innovative new consensus mechanisms, Avalanche provides unprecedented speed, security, and stability. This makes it the ideal platform for building next-generation applications, including those that require real-time payments or complex financial contracts. Avalanche is also uniquely scalable: it can support thousands of transactions per second without sacrificing decentralization or security.
The downtrend is still there! the last higher high kept a higher low for now. the $15 mark support line is the key. If it breaks it it will continue to fade else there's a chance for a trend reversal if it breaks the $30 mark.
A sideway consolidation will be nice to see in order to create a trend reversal.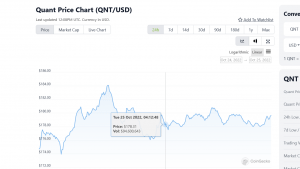 If you're looking for a cryptocurrency that is truly unique, Quant (QNT) is a perfect choice. Unlike other digital currencies which are based on a single blockchain, Quant uses multiple blockchains to achieve its goals. This allows for a much more scalable and secure network.
In addition, Quant has its own native token called QNT. This token is used to power the network and can also be used to create new tokens. This makes it a very versatile currency.
QNT is the only coin right now to have doubled its price in the last month. It's in a strong up-going trend, it has corrected its price recently so it can be a very attractive coin to invest in right now. However, the $200 mark can be an issue. If it doesn't break it will probably fade to the previous support area located $130 mark.
Here you have it! 12 best cheapest crypto to buy with potential explained for you.
Now it's your turn to do your own research and see if these coins fit your investment strategy.
As always if you have any questions feel free to leave them in the comment section below and you can share this article if you found it helpful.
Thank you for reading and good luck!
Happy Investing!
Author: Marco Tapio Pasini
Disclaimer. Cryptonewsmart does not endorse any content or product on this page. While we aim at providing you with all the important information that we could obtain, readers should do their own research before taking any actions related to the company and carry full responsibility for their decisions, nor this article can be considered investment advice
---
Sign up now: Get Smarter about Cryptocurrency with our weekly Free newsletter

Do you have any questions?  Reach out to us on any other social media, we will do our best to respond After you are Following Us  🙂
Instagram ——Twitter——-Facebook——Quora
Do you like the Article?  Please share   Thank you…
**This post contains affiliate links that will help me create new content without additional cost for you **
**I'm not a financial advisor **
More Like This