Cryptocurrency scams
Cryptocurrency scams, unfortunately, these days are everywhere. Putting cryptocurrency on a bad list of things that you shouldn't do. Even for us that we are a Legit startup providing crypto news and material to teach the crypto topics they don't let us promote anywhere. Not everybody in the Cryptocurrency industry is trying to rip you off. You need to be skeptical, follow the Crypto news, never share your security key, and do some research before you invest but this you should normally do in everything that you invest in. Here we will dive dip in things you should pay attention to:
1-Cryptocurrency scams
Fraudulent ICOs
The most common way to pull off a scam is to fabricate a fake ICO, create marketing hype, and persuade people to buy.
What is ICO?
An initial coin offering (ICO) is when a company raises money by selling a new cryptocurrency, which investors may purchase in the hope that the value of the cryptocurrency will increase.
Usual signs of fraud ICOs or Token Sales:
Copied whitepaper
Half team anonymous
Unusual hurry in execution
Mismatch of written & said words
Ignoring hard questions
No strong reasons for the token economy
No roadmap
Before you decide to invest in any project you need to triple-check if is trustworthy, who is behind it, how much capital they invest, and which company are investing in. Just by following those simple guidelines,  you should be ok. Your mantra should be to research before investing.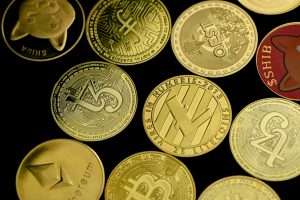 2-Cryptocurrency scams
Shady Exchanges you shouldn't trust
This is self-explanatory. If you decide to buy cryptocurrency you have to be careful where you put your money. There are Cryptocurrency scams in every corner, sometimes they create an exact copy of the legit website without s (HTTP://) and you should stay away from those.
Also, we provide a list of exchanges that you stay away from:
01crypto, Btc-cap, Capital-coins, Coinquick, Cryptavenir, Crypto-banque, Crypto-infos, Cryptos.solutions, Cryptos-currency, Ether-invest, Eurocryptopro, Finance-mag, Game-crypto, Gmtcrypto, Good-crypto, Mycrypto24, Nettocrypto, Patrimoinecrypto, and Ydconsultant.
Here we have a list of the best Cryptocurrency exchanges.
3-Cryptocurrency scams
Fake Wallets or fake apps
This is one of the most popular and easy cryptocurrency scams. Do you know how many fake apps are there on google play and apple store? Just you need to be aware that when you download any app on your phone you give access to your data. So that means they can see all that you do, your password, your security key 🗝 access to r crypto, and more.to avoid tgettingsgettingu downloading apps that have good reviews, that are trusted, and it's been in the crypto industry forleastlist a year. We will soon write an article on the best Crypto wallets.

4-Cryptocurrency scams
Pyramid or Ponzi Schemes
First, we need to explain what is it?
The difference between the two is that a Ponzi scheme only requires investment in something from its victims, with promised returns and paying later. Pyramid schemes, usually offer the opportunity to "make" money by recruiting more people into the scam.
This form of scam is easiest to spot but people still fall for it.
If you find a crypto project that actively encourages the recruitment of new investors to maximize your profits, it is a Ponzi scheme. This system works on the model of scamming the one who enters the system later. Also, schemes that promise absurd returns are Ponzi schemes.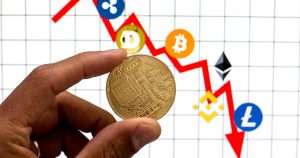 5-Cryptocurrency scams
Pump & Dump Groups
Every crypto pump-and-dump scheme follows the same template,
"The way they work is they create a token, and they want to take it as high as they can, so they go onto social media and talk about the things they are doing, they share memes and get people onto their channel, They first list someplace like CoinGecko, then CoinMarketCap and each listing expands them to a broader audience.
When there are a lot of holders, the scam may start to advertise on buses and billboards, or use influencers to promote their token. The next step is to appear on one or more of the big exchanges like Coinbase or Binance, opening up the token to a broad audience.
Here we have the Groups cryptocurrency scams
There is always been groups of people that without any conscience drive the market up and down at will. If you search on Telegram, you will find many crypto groups with 40,000-100,000 members in it. What do you think they do in such groups?  These groups are the tools to manipulate the prices of altcoins that have low market caps. In this way, people who act fast or first get the advantage, and the people who are a bit late suffer from the plummeting prices in just a matter of minutes. I just have to add a note of sadness, so to make money,y you need to rip off someone else?  how can you sleep at night?
There are several tools available in the market to monitor the volume increase in particular crypto which helps in identifying such schemes.
6-Cryptocurrency scams
Fake people
The most sophisticated form of scam. In this type of cryptocurrency scam, scammers make fake Twitter and Facebook account to impersonate the actual legit project or the person behind it. You will find many impersonators on Twitter acting like Vatalik Buterin or Binance's CEO and announcing airdrops etc which are never true.
Also, scammers have started acting as crypto exchange support staff to scam people of their crypto funds.
Conclusion: How to Avoid Cryptocurrency Scams?
There are many ways that some Internet users exploit unsecured computing systems to mine or steal cryptocurrency. Learn more about staying safe and protecting yourself in this emerging market before you start investing in cryptocurrency
---
Sign up now: Get Smarter about Cryptocurrency with our weekly Free newsletter

Do you have any question?  Reach out to us in any other social media, we will do our best to respond After you are Following Us  🙂
Instagram ——Twitter——-Facebook——Quora
Do you like the Article?  Please share   Thank you…
**this post contains affiliate links that will help me create new content without additional cost for you **
**I'm not a financial advisor **