Cardano What is it? Why is so popular?" Cardano What is it? Why is so popular?" so I decided to write an article on this topic.
Cardano (ADA) in four points:
Market cap $11,469,462,662

Daily volume $194,731,858

14 days up 4,2%

The project behind the coin
Hello and welcome back to this new article.
Are you ready to hit the road?
Let's start in order.
Cardano What is it?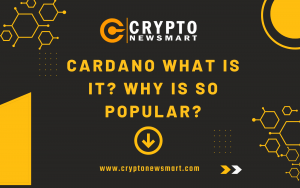 Blockchain technology has the potential to revolutionize the way we interact with the digital world. By decentralizing data and giving users control over their information, blockchain offers a more secure and efficient way of conducting transactions and sharing information. However, blockchain networks have faced several challenges in recent years, including scalability issues and high energy consumption. Cardano is a third-generation blockchain network that is trying to address these problems by learning from the mistakes of its predecessors. Cardano uses a unique proof-of-stake consensus algorithm that is designed to be more energy-efficient than other blockchain systems. Additionally, Cardano's scalable architecture makes it able to handle a large number of transactions without compromising on security or efficiency.
Cardano's goal is to become the leading blockchain platform for financial applications. To achieve this goal, the team is working on a variety of features including fraud detection, interoperability with other blockchains, and scalability. The Cardano team has also partnered with various businesses and organizations to help promote the adoption of their platform.
The Cardano team is composed of a large international group of experts in various fields, including cryptography, engineering, mathematics, and economics. The team is led by Charles Hoskinson, one of the co-founders of Ethereum. Hoskinson is dedicated to ensuring that Cardano adheres to the highest standards of governance and accountability. Cardano was launched in 2017 and is currently the 10th largest cryptocurrency by market cap. It hit an all-time high at the beginning of September 2021 at the price of 3,09$. It has been gaining attention due to its potential as a platform for financial applications and its ability to process transactions quickly and securely, while still being cost-efficient. Additionally, Cardano has implemented several protocols that provide increased security, privacy, and scalability compared to other blockchain platforms.
Is Cardano secure?
Million dollar question, isn't it?
Especially now, after everything that happened, is very highly requested information. And the reply it's easy: Yes. Cardano is the first blockchain platform to be built in a graduate-level academic setting, by a team of experienced academics and engineers. The platform has been designed and engineered for security from the ground up, and its code has been audited by multiple leading third-party experts. The Cardano blockchain is based on Haskell code, which is known for its mathematical precision and security. In addition, Cardano's layered architecture means that each layer can be updated or replaced without affecting the others. This makes Cardano far more secure than other blockchains that are based on a single layer of code.
And this is how it works: Bitcoin and other cryptocurrencies are secured through a process called "mining". Miners use computers to solve complex mathematical problems to verify transactions and earn rewards. However, this process can be centralized, which leaves the network vulnerable to attack. Cardano uses a different security protocol that is more decentralized. This means that it is much more difficult for an attacker to take control of the network. As a result, Cardano is more secure than Bitcoin and other cryptocurrencies. Cardano's vision for the future is to become the leading blockchain platform for financial applications. With its strong security protocols and scalability, Cardano is well-positioned to achieve this goal. The team is working hard to continue improving the platform, with a focus on making it more accessible to businesses and individuals around the world. As Cardano grows in popularity, its potential for revolutionizing finance could be immense.
Why Cardano is so popular?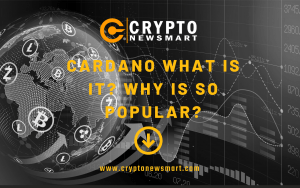 As Cardano grows in popularity…. Yes is the sentence from above and I know you are, at this point, wondering why Cardano is popular? I can imagine a lot of readers dying of curiosity about this topic, so before someone really dies let's get it! Cardano is popular for a few reasons.
First, it has been designed to provide users with a secure and scalable platform for financial applications.

Second, the Cardano team has partnered with various businesses and organizations to help promote their platform.

Third, Cardano's layered architecture provides increased security and scalability compared to other blockchain networks.

Fourth, the Cardano team is composed of experienced academics and engineers who have put in place strong governance measures to protect user privacy and data integrity.

Fifth, its code has been audited by multiple third-party experts to ensure its security protocols are sound.

Finally, Cardano offers low transaction fees when compared with other cryptocurrencies like Bitcoin or Ethereum.
These factors make Cardano an attractive choice for people looking for a reliable and secure platform to transact with. As more people learn about Cardano's features, its potential as a decentralized financial system continues to grow. This has led to an increase in the price of ADA tokens, making it a popular investment option among crypto users. Cardano's popularity is likely to continue increasing as more businesses and organizations embrace blockchain technology. As you can see, Cardano is an innovative and secure platform that has the potential to revolutionize the way we use money and conduct financial transactions. Its strong security protocols, scalability, and partnerships with businesses make it an attractive option for investors looking to invest in cryptocurrencies. With the continued development and adoption of its technology, Cardano is likely to become even more popular in the years to come.
Let's take a small step back to give you valuable information.
We said before that Cardano is the third-generation blockchain, so let's dig into this information deeper. The first generation of blockchain was Bitcoin, which is a secure, decentralized ledger system. Bitcoin works with a coding language called "Script" and is "not Turing complete". What does this mean?  It means that Bitcoin's code has limited capabilities and can not be used to run complex applications. For example, you can't use Bitcoin to create a program or website.
The coding language Script has "no loops" so it can't be used to create programming code and this limits the use of Bitcoin. That is how it works and why Bitcoin is "not Turing complete" The second generation of blockchain was Ethereum, which uses a coding language called "Solidity" ( it has loops) to create smart contracts. Smart contracts are self-executing contracts that can be programmed to do things like transfer money or verify transactions without any third-party involvement. Ethereum is an improvement over Bitcoin because it allows for greater flexibility and scalability when creating applications on the platform. For example, Ethereum is Turing complete, which means that you can create contracts and programs using Ethereum that you can't create using bitcoin. The main risk is that someone can create loops and overload the system. So Etherium resolved this by creating fees for each transaction and program executed.
The main issues with the Ethereum blockchain are scalability and security. The third generation of blockchain is Cardano, which uses the "Haskell" programming language to create decentralized applications. Unlike other blockchains, Cardano's code is Turing complete, meaning it has unlimited potential for creating complex applications. This makes them attractive for businesses looking to build on top of a blockchain platform. Cardano also includes several features such as off-chain scalability solutions, strong privacy protocols, and a delegated proof-of-stake consensus mechanism. These features make Cardano the most secure and scalable blockchain platform available today.
Let's dig into it a little bit more for those who like to know every technical detail.
Cardano's scalability works with these three dimensions.
Transactions/ second

Bandwidth ( RINA network protocol)

Data
Cardano can potentially scale to billions of transactions per second. The off-chain scalability solutions, such as sidechains and sharding, help Cardano achieve this scalability.
Also, the bandwidth requirement is decreased significantly as well so that transactions will take less time than on other blockchains. And lastly, data throughput is improved by using a technique called "block flattening" which reduces the amount of data required for a single transaction.
Last but not least it's time to talk about " Treasury".
Cardano's treasury is a special fund where 10% of all block rewards are deposited. This money can be used for development and research into new projects, as well as to support the Cardano ecosystem. The treasury system also helps the platform become more decentralized, as funds will be distributed among many different parties rather than just being held by one entity.
In easy words, it's a decentralized bank account where the stakeholder can vote on what to do with the money.
All of these features combined make Cardano one of the most secure and scalable blockchain platforms available today. It has strong security protocols in place, along with privacy and scalability solutions that allow businesses to utilize its technology without having to worry about their data being compromised or their transactions taking too long to process.
Cardano Technical Analysis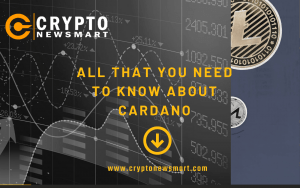 Click here to have a live preview
source https://www.coingecko.com/en/coins/cardano
Cardano is definitely a runner. That means when it starts to go up it goes up very fast. This year was crap. It has lost 77% of its price. But some small signals are on the way. It has been two weeks up gaining a 4,2% and it's forming some kind of base. We need to wait and see if it confirms the trend. The end of the year will probably try to confirm itself on this basis. Next year can be good for a run test toward the 0,50$ mark. After that It will break or fall back again to a higher low to confirm the trend and gain strength for the run or falling back again. In conclusion, it is not time to invest in Cardano yet. We need to wait for it confirm the base and a higher low after that using the previous support line as stop loss.
That's all folks!!
All you need to know about Cardano is here from the top to the bottom.
Hope this article helped you understand Cardano and its features. If you are still having doubts, do not hesitate to reach out to us and we will be more than happy to help clear up any queries you may have!  Stay tuned for more updates on cryptocurrencies as well as other blockchain-related topics.
As always you can share this article if you found interesting, thank you for your help.
Have a great day and see you in the next article!
Disclaimer. Cryptonewsmart does not endorse any content or product on this page. While we aim at providing you with all the important information that we could obtain, readers should do their own research before taking any actions related to the company and carry full responsibility for their decisions, nor this article can be considered investment advice.
---
Sign up now: Get Smarter about Cryptocurrency with our weekly Free newsletter
Do you have any questions?  Reach out to us on any other social media, we will do our best to respond After you are Following Us  🙂
Instagram ——Twitter——-Facebook——Quora
**This post contains affiliate links that will help me create new content without additional cost to you **
**I'm not a financial advisor **
 Here we will Share another post you might like