One of the top three most popular cryptocurrency bots available is 3Commas. In this 3Commas review, we'll discuss all the key aspects of this cryptocurrency trading bot, as well as its main benefits and potential drawbacks, how it stacks up against the competition, and the best and most effective trading approach.

Why?
You can use the bot to gradually increase your cryptocurrency holdings by chipping away at market gains with the right configuration and low-risk tactics. As you undoubtedly already know, crypto bots, commonly referred to as bitcoin bots, are software programs that automatically purchase and sell cryptocurrencies on exchanges by user-defined rules and directives. Similar to the bulk of other bitcoin trading bots, 3Commas is a cloud-based platform that is accessible from any device and allows for mobile trading thanks to iOS and Android apps.
How precisely 3Commas work?
You can use the 3Commas platform to trade manually (with expanded functionality compared to traditional exchanges + having all exchanges in a single interface) or automatically once you've connected your exchange account with it using API keys. Setup an automated cryptocurrency trading bot on your own, or purchase techniques or signals from outside vendors in the market.
Thus, the three primary items on the 3Commas platform are as follows:
expanded features and alternatives for manual trading
automatic trading with bots
portfolio management market for signals and strategies
Let's go through the characteristics in greater depth.
3Commas has built a Great  user interface and put it in the Smart Trade. Smart Trade is customizable in an easy and user-friendly fashion. There are multiple things you can accomplish from this dashboard, including:
Concurrent Take Profit and Stop Loss – With 3Commas, you can specify a simultaneous take profit level and stop loss, and the bot will close your position depending on which event occurs first.
Create several sell targets by telling 3Commas to sell different percentages of your position at different levels. This is the equivalent of creating a tiered sell order.
Support for TradingView – The most widely used charting platform worldwide is TradingView. Through the Smart Trade dashboard on 3Commas, you can use all the indicators and charting tools that are available.
Profit-taking and lagging Stop Loss: This is yet another fantastic option that allows you to set your take-profit level as well as a trailing stop loss to protect your gains. If you instruct the bot to set the trailing stop loss at 15% below the current price, it will continue to move that order as the price trends upward.
Smart Cover is a fantastic feature to use to profit from unforeseen market movements.
Selling and repurchasing coins with a lag take profit and buy while trailing.
Conditional orders: Purchase or sale in response to a specific price level. Also possible are buy-with-sell circumstances (you input when to buy, when to sell with a profit, and when to sell with a loss).
Does Smart Trade on 3Commas support margin and futures trading?
Yes, it does.
You can connect BitMex, ByBit, or Binance and manage your margin trades through the 3Commas Smart Trade interface trading automatically with Crypto Trading Bot. You go here to set up and launch your bots for hand-off trading. While the bot monitors the market and executes trades for you, you remove your emotions from the equation and gain time for other pursuits. This can result in a reliable source of passive income every day or month with the right arrangement.
You can use one of two types of bots on the 3Commas platform:
basic bots
composite robots
What is the 3Commas automatic trading bots capable of?
Without changing a thing, you can put up one bot and use it for years. You can, however, edit or terminate the bot whenever you like. Long and short algorithms: In the long algorithm mode, the bot buys at lower price levels and sells at higher price levels or vice versa.
Repetitive trading using easy bots on a single pair. The moment the bot closes your prior position, a fresh order is placed.
Select the start conditions for new orders that the bots will use.
Opening new roles quickly after closing existing ones is not always the greatest course of action, therefore this is a wise choice (for example, at price peaks).
Find and clone the best-performing bots created by other people. This is a fantastic option if you want to adopt a configuration that has demonstrably proven successful in the past.
Safety orders to counteract the inverse market movements This is simply a dollar cost average strategy where you reduce your average entry price and buy more at cheaper prices to offset your losses.
Using composite bots, you can divide money more effectively. You can establish a composite bot, add as many pairs to it as you like, and it will automatically allocate funds to active pairs, so you don't have to lock up your money in simple bots.
Purchase and employ various outside signals from the 3Commas market.
Use Trading View alerts to create orders and close positions based on technical indicators like RSI, ULT, TA presets, CQS Scalping, etc.
Margin trade short & long on Bitmex, Bybit, and Binance
What do basic bots on 3Commas do?
These are pretty basic scripts that 3Commas executes on your behalf, as the name would imply. You select a trading par, specify your take-profit percentage, which is typically in the low single digits—1% or even lower—and then you let the bot run. Then, until you tell it to stop, it will continuously continue this operation (establish a new buy as soon as it closes the previous order).
On 3Commas, what do composite bots do?
Composite bots are more sophisticated and versatile. As many trading pairs as you desire can be selected and run simultaneously. Because you don't have to make dozens of simple bots for each pair, composite bots handle your money considerably better (which would mean your funds will be locked up). The composite bot can have ten trading pairs open, but it can only execute one trade at a time, and there are no lockups.
Portfolios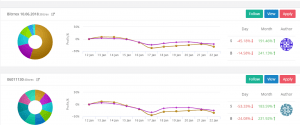 This part of the 3Commas platform is an optional feature that would be good to have rather than its primary function. With a few pleasant enhancements, it is effectively a Blockfolio within the 3Commas app. You may examine a list of all the exchangers and coins you own, and you can choose to have your portfolio automatically rebalanced. Your portfolio will be maintained in balance by 3Commas making the purchases and selling/buying pairs automatically when the specified ratio is violated. You will assign percentages to each coin you wish to possess. If you wish to have 50% of your portfolio on Binance in BTC, 25% in ETH, and 25% in BNB, for instance, you may tell 3Commas that. Your current coins will be sold to Binance, and these coins will be purchased at these ratios. Then, it will keep track of their prices, and if BTC rises in value while ETH falls, tipping the balance in favor of BTC (in this scenario, you might wind up with 28% BTC and 22% in ETH), 3Commas will sell some of your BTC funds and exchange them for ETH to bring the ratio back to the desired level.
Review of 3Commas bot: Additional features
The 3Commas account also has the following additional significant features: updates via app notifications, Telegram, or email address for any pricing changes and orders that have been filled
Mobile applications for iOS and Android with sellers of trading strategies and signals
generous three-tiered referral program (you earn a commission for the referrals of your referrals).
On 3Commas, is it possible to trade futures and on margin?
You can, indeed. Binance Futures, BitMex, and ByBit, three of the most well-known margin cryptocurrency exchanges, are supported by 3Commas.
AI GRID bot
This brand-new, potent AI trading bot is still in the testing phase. It must be made accessible through your 3Commas profile. This AI bot adapts to market conditions and, with the right setup, may be quite effective at generating income for you.
This bot attempts to profit from each price change within the predetermined price range.
How is that selection made?
The bot, however, set the upper limit because the highest price reached during the previous seven days climbed by 3%. The lowest price that has been reached in the last seven days has been lowered by 3% and is the lower limit price. The bot then divides the chosen range into several planes, placing a buy or sell order on each level, enabling one to buy and sell every dip and rise. You must possess both coins in the pair to trade because GRID simultaneously places buy and sell orders. If you exchange BTC for ETH,
Exchanges supported by 3Commas
The number of exchanges that can be connected with this automated trading system has increased to 23, from only 7 it used to support only half a year ago, as 3Commas has stepped up its efforts to integrate new exchanges with its platform. Only 9 exchanges, however, can be utilized with automated trading bots; the remaining exchanges can only be used with human trading through Smart Trade.
These nine bitcoin exchanges include well-known websites like:
FTX
OKX
KuCoin
Bitfinex
Bitstamp
Bittrex
Bybit
Crypto.com
FTX (US)
3Commas pricing – how much does 3Commas cost?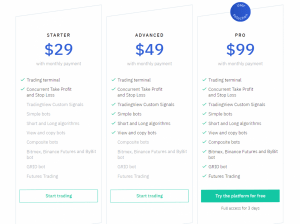 Three common levels and price plans are available on 3Commas.io. They also have a unique enterprise plan that must be set up through direct communication with the staff. The three common plans' offers are very different from one another.
Is 3Commas a good trading bot for beginners?
yes, indeed.
The platform's continual growth has made it a true monster with a ton of options that could seem intimidating at first glance, but its software architects did a superb job of designing everything to be understandable and simple to use. Simple bots may be developed in a few minutes, and connecting an exchange is a breeze. The marketplace and bot stats are both well presented and simple to understand. Another choice is the trader's journal, which provides a summary of all the trades executed on your connected exchanges and enables you to quickly determine any profits or losses realized on a specific trade throughout a specified period.
How safe is 3Commas? Is it legit?
3Commas uses API keys without withdrawal privileges to connect to your exchange account. Additionally, 3Commas works directly on the exchanges rather than routing activity through their servers. Both of these factors significantly increase the security of 3Commas. They remove the incentive for hackers to hack your account because they won't gain much from it. However, there have been instances where malicious actors were able to access trading features on cryptocurrency exchanges by hacking externally connected apps. They would then use their money to purchase cheap coins to raise their value. So, I hear you asking, what's in it for them? They had previously purchased those low-value coins, and since they have inflated their price with your money, they are now able to sell them for a profit, leaving you with bags of useless cryptocurrencies that are untradeable. This is nearly as awful as losing your cash outright to hackers. By using 2FA, or two-factor authentication, and receiving notification notifications for all significant account activity, you can lower these dangers. As a result, even if hackers can break the security barriers, you will be able to respond rapidly to eject them from the area, further reducing their room for maneuver.
3Commas crypto review – is it worth it?
An outstanding bitcoin trading bot is 3Commas. Except arbitrage trading, it provides everything a trader, whether novice or seasoned, needs. 3Commas is an excellent option even if you merely want to manage your portfolio or perform automatic rebalancing. With the Smart Trade dashboard from 3Commas, you can manually trade from a single interface with enhanced capabilities. And finally, you can build your own simple or composite bots if you prefer a hands-off approach and a fully automated trading process. You can also buy signals from other vendors, entirely copy trade successful traders (social trading), or configure other people's bots by copying their configurations, all from this single interface.
**I'm not a financial advisor **
Written by Francesco La Rocca
---
Sign up now: Get Smarter about Cryptocurrency with our weekly Free newsletter

Do you have any question?  Reach out to us in Quora or any other social media, we will do our best to respond After you are Following Us  🙂
Instagram ——Twitter——-Facebook——Quora
Do you like the Article?  Please share   Thank you… Under here we will share same others post you might like
**this post contains affiliate links that will help me create new content without additional cost for you **