Technical Analyst Predicts Bearish Outlook for Dogecoin Following Removal of Logo from Elon Musk's Twitter
Elon Musk Just Crashed Dogecoin. Why? It's super exciting, and what Elon is doing is obviously amazing. However, I want to put in a little warning: He has changed the logo for Twitter to Doge. Do you think he's going to keep it as Doge forever whenever it does get removed as the logo? I think that's going to be pretty bearish. I think people are going to react to that. Elon Musk has just removed the Dogecoin logo from Twitter. He had it up for about three days, and it's now gone. The Dogecoin price is in free fall. I turn it over to technical analyst Tom Crown to give us both the bullish and bearish next price targets, as well as the second half. Let's start with Dogecoin: Here we have Doge on what's called a quarterly candle, so each one of these represents three months. This is a long period of time, and the doge chart on the quarterly is pretty spicy. What we saw in 2021, starting in July, was basically a year and a quarter of fall in October of 22.
Elon Musk's Tweets Ignite Excitement in the Dogecoin Rally We saw a little bit of a rally, and a little bit of excitement, but what's drawing everyone right now to Doge has got to be Elon Musk. The Elon factor is back in play, and he's finally tweeting about it again. He changed Twitter's logo. Who knows how long that will stay? At the moment, when you load up Twitter.com, there's a Doge there, and everyone's paying attention to Doge again, so I think it makes sense to look at these charts again. I haven't paid too much attention to them last year, but now that I'm back, I'm locked in From a very zoomed-out point of view. I think our first logical upside target if Doge keeps moving, is going to be looking back to about October 22, where we saw what you might call a fake rally or a bearish rally up to about 16 cents. That's level for me, so once Doge gets there, I'm going to get really bullish on it again At the moment, I like what Elon's doing, but I'm not quite on the same page, maybe in energy, as other people on the bullish side, yet 16 cents.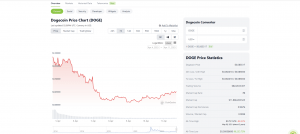 Dogecoin's Resistance at 16 Cents Could Trigger Profit Taking, Says Bitcoin Analyst.
That's when you're going to get back in. Isn't that the time to sell, since there's some resistance at the moment? What's the price that gets you excited, and what's the price that averages Joe goes, 'Man, I'm waiting too long; I'm missing out .'! I do have trouble describing that one for Doge. I don't have a very specific target as I did with Bitcoin, but that's a good question to always ask when you're looking at markets. Where are people going to get excited In October or November of 22, we did see it move up to like 16 cents. So it's right at 16 cents, and no, I'm not bullish. In fact, I might look to take some profits onto 16." But if we can see a sustained move above 16 cents, 25 cents comes into the picture very quickly. So my thoughts for Doge people out there looking to get in a trade or looking to invest, don't be surprised if it gets very volatile when Elon eventually does reverse the logo from a sobering yet awesome perspective.

XRP's SEC lawsuit overshadows its price range despite its potential.
Let's talk about XRP, because they're doing so much more than Doge. Now, that was a little fake hype, even though the XRP army would tell you, I love it. They'll love it, but I want to be very realistic. Doge is a meme coin. Xrp is doing real things, unfortunately, they're in an SEC lawsuit right now. But what are your thoughts? It's been a long lawsuit. I've been a large skeptic of XRP for years, but at the end of the day, I'm about the charts, and XRP did something that I, as a chartist, have to acknowledge, and it's kind of what we just looked at with Doge XRP has spent. Let's say it's been about a year from 33 to 50ish cents, it's just been ranging there.
XRP breaks the key resistance level and trades at the psychological 50 cents mark.
I think this is a pretty reasonable accumulation of supply I have been asked about XRP over the last few months, and I just haven't been interested. Nothing really happened. I know you're excited, You think the case is going to end soon. I get it but from a chart. If we take off the last few weeks here, it's really just hung out in this range As of last week. It proved me wrong, or at least made me honest or have, to be honest about my calls. I said as long as it's under, like, 50 cents, I'm just not interested It did what I didn't think it would do It moved above 55 cents. It broke in the past. September's high of last year, and it managed to close a pretty strong candle last week. What I see right now is it's trading at 50 cents. This is a very psychological level, Anything basically that ends in zero or is like 110 one. These are all numbers that we really easily conceive as humans. In trading, we find that those levels become significant.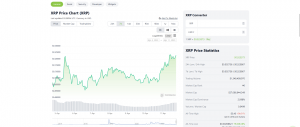 XRP chart suggests a bullish outlook amid ongoing lawsuit uncertainty
I think, because of that, XRP is chilling at 50 cents. It hit a new high compared to its recent highs last year. If it can break past last week's high, I don't see much standing in the way for XRP until maybe 85 cents or a dollar, and that's a pretty big upside. So from 50 cents to 85 cents, a dollar would be a 100 % good thing. It seems like the market is pricing. We think this lawsuit's going to be done, and the XRP bulls are going to win in some sense. Maybe that just means a slap on the wrist. Do you put any weight into that, or is it just trade for you? Is it just a chart? I really try to keep it just the chart, but I have many times in the past been a believer, and I still am, that the charts somehow know the future, not literally, but they tend to price in events that are unforeseen and will come up. If we're going to take this chart and say how well the XRP case settles, the chart is looking very strongly at it.
Altcoin Daily's Final Thoughts on XRP and Altcoins in the Current Market
It was struggling to reach new highs. It has been kind of a surprise move in the last two weeks. If we're going by the chart. I think the chart is leaning towards some kind of favourable outcome. Im not even going to pretend to guess what that is, but it isn't the worst-case scenario we will be waiting for. We will be watching.
This post contains affiliate links that will help me create new content without additional cost to you
I'm not a financial advisor
Disclaimer. Cryptonewsmart does not endorse any content or product on this page. While we aim to provide you with all the important information that we can obtain, readers should do their own research before taking any actions related to the company and carry full responsibility for their decisions, nor this article can be considered investment advice.
Sign up now: Get Smarter about Cryptocurrency with our weekly Free newsletter
Do you have any questions?  Reach out to us on any other social media, we will do our best to respond After you are Following Us  🙂
Instagram ——Twitter——-Facebook—–Tiktok
 Here we will Share another post you might like 
Crypto futures trading explained