Do you have questions about cryptocurrency and don't have a clue where to find the right answers?
Well, that is a common problem for many of us, but we cover your back all the time!
We reply to questions in all our social media channels and below in the blog post too, so if you have questions about cryptocurrency… just shoot!!!
In this article, we will cover the most asked questions we got on Quora and they are not only for beginners, so keep reading for deepening your knowledge!

Questions About Cryptocurrency? "Beginners"
What are cryptocurrencies?
Cryptocurrencies are digital or virtual tokens that use cryptography to secure their transactions and control the creation of new units. Bitcoin, Litecoin, and Ethereum are some of the most popular cryptocurrencies. Cryptocurrencies are decentralized, meaning they are not subject to government or financial institution control.
Beyond a method for payment, what are other functions of cryptocurrencies?
Cryptocurrencies can function as a medium of exchange, just like traditional currencies. For example, you could use Bitcoin to buy groceries from a grocery store that accepts Bitcoin. Plus you can trade cryptocurrencies for other cryptocurrencies (i.e., altcoins), traditional fiat currencies, or even mine them.
However, cryptocurrencies also have unique features that make them appealing for certain use cases.
For example:

1) Cryptocurrencies are digital and global, so they can be used anywhere in the world.

2) Cryptocurrencies are secure and anonymous, so they can be used for transactions that require privacy.

3) Cryptocurrencies are decentralized, so they can be used without reliance on third-party intermediaries.
What are public and private keys?
A public key is a cryptographic key that can be used to encrypt data, while a private key is used to decrypt data that has been encrypted with the public key. Together, the two keys form a cryptographic pair that can be used to securely send and receive data over an untrusted network.
Public and private keys are generated together as part of a cryptosystem such as RSA or Elliptic Curve Cryptography (ECC). The public key is made available to anyone who wants to send you encrypted data, while the private key is kept secret and known only to you. Data encrypted with the public key can only be decrypted with the corresponding private key and vice versa. This allows you to safely send confidential information to someone without having to worry about them being intercepted and decrypted by a third party.
What are the reasons for the popularity of cryptocurrencies?
Cryptocurrencies have become popular because they offer a number of advantages over traditional currency.
First, cryptocurrencies are decentralized, meaning they are not regulated by governments or central banks. This makes them more secure than traditional currencies, as there is no single institution that can manipulate the value of cryptocurrencies.
Second, cryptocurrencies are anonymous, meaning they can be used to purchase goods and services without revealing your identity. This makes them ideal for online transactions, as you do not need to provide any personal information.
Third, cryptocurrencies are digital, meaning they can be stored and transferred electronically. This makes them much easier to use than traditional currencies, which must be physically exchanged.
Fourth, cryptocurrencies are global, meaning they can be used anywhere in the world. This makes them ideal for international trade, as they can be easily converted into any other currency.
Finally, cryptocurrencies are volatile, meaning their prices can fluctuate rapidly. This makes them a risky investment, but also one with the potential for high returns.

What are cryptocurrency wallets?
Cryptocurrency wallets are digital or software wallets that allow holders of cryptocurrencies to store, send, and receive their digital assets. Wallets can be desktop, mobile, online, or hardware-based. Desktop wallets are software programs that you download and install on your computer. They are connected to the internet and allow you to access your funds from anywhere. Mobile wallets are apps that you install on your smartphone. They allow you to store and use your cryptocurrencies wherever you go. Online wallets are web-based services that allow you to store and use your cryptocurrencies from any device with an internet connection. If you want  to read more  about wallets please check our article:
Would you like to know the best Crypto Wallets? Click Here
Cryptocurrency  For Dummies, Learn all that you need about: Click Here
How can I start investing in cryptocurrencies?
There are a few ways that you can start investing in cryptocurrencies. Some have high risk and others lower in any case, we recommend that you always diversify your investments, and make your research before doing anything investing can make you lose money so invest only what you can afford to lose and stay safe! Remember to cut losses quickly in order to save your capital.
The first way is to buy cryptocurrencies with fiat currencies like USD, EUR, or GBP. You can do this on exchanges such as Coinbase, Binance, or Crypto.com.
The second way is to buy cryptocurrencies with other cryptocurrencies. This is called trading and can be done on exchanges such as Binance, Etoro, or Crypto.com.
These are high-risk investments and you can lose all your money so please be careful!
This requires trading skills so if you don't have them, be careful and learn how to do it.
If you are interested in trading but you don't have deep knowledge in the area we have the solution for you: 3commas is the bot for you. Check the review of how it works on this link https://cryptonewsmart.com/crypto-bots-review-3commas/
The next way is to mine cryptocurrencies, you'll need to purchase specialized hardware called ASIC miners. To start mining in cryptocurrencies, you'll need to obtain some cryptocurrency mining software and a dedicated cryptocurrency mining rig. The software will help you connect to the currency's network and begin hashing (mining) blocks of data to earn rewards. The rig is simply a computer system designed for nothing but cryptocurrency mining; it contains multiple graphics cards that churn through data quickly to mine new coins.
You may also want to join a mining pool, which is a group of miners who work together to increase their chances of finding valuable blocks and earning rewards. Joining a pool is a good idea if you don't have the resources to build your own mining rig, or if you want to mine a less popular cryptocurrency that is not worth setting up a solo operation for.
Another way is to receive cryptocurrencies as payment for goods or services. For example if you are a freelancer you accept cryptocurrency as payment. Last way is to earn interest on your cryptocurrencies. We cover this part in our article so if you are interested this is the link
Saying briefly you can earn money by lending them out or staking them. Lending is the process where you lend your cryptocurrencies to someone for a period of time and receive interest payments on the loan.
With crypto.com you can earn up to 14,50% per year.
Staking is the process where you hold your cryptocurrencies in a wallet to support the network and receive rewards for doing so.
There are a lot of questions about blockchain, and what it is. By definition, a blockchain is a distributed database that allows for secure, transparent, and tamper-proof transactions. It's often used to underpin cryptocurrencies like Bitcoin, but its potential uses go far beyond that.
Blockchain is a new way of handling data that eliminates the need for a third party to verify transactions. This makes it an ideal solution for industries such as finance and insurance that require trust and transparency.
It also has the ability to change how we interact with the digital world. For example, it could be used to create secure digital identities or revolutionize the way we vote or store data. The possibilities are endless, and technology is still in its early days.
How are you doing?
Was it clear and informative? Let us know if you have more questions, we are here to reply and give to you the most valuable information.
So ready to dig deep?

Questions About Cryptocurrency? "Advanced"
We feel we need to spend up this part of the article for readers that know already and want to learn more about cryptos, so we selected some questions about crypto for you so you can advance your learning.
Are you ready?
ICO stands for "initial coin offering". An ICO is a way for a company to raise money by issuing cryptocurrency tokens. For example, a company might issue tokens that represent shares in the company or give people the right to use the company's services in the future.
People can buy these tokens with either Bitcoin or Ethereum. The tokens are then traded on cryptocurrency exchanges and can be used to purchase goods or services from the issuer of the token.
What is the master seed for crypto wallets?
Seeds are a sequence of words that are used to regenerate your wallet if you lose access to it. Seeds are also used as backups in case your device is lost or damaged.
The seed for a crypto wallet is typically a 12-word phrase that is generated when you create the wallet. This seed should be written down and stored in a safe place. If you lose your device or forget your password, you can use the seed to restore access to your wallet.
What are transaction fees in cryptocurrency?
Cryptocurrency transaction fees are the costs associated with submitting or validating a cryptocurrency transaction. Easily put, they are the cost of sending a digital asset from one address to another. The fee is usually paid by the sender of the digital asset.
The amount of the fee varies depending on the cryptocurrency, but it is usually a small percentage of the total amount being sent.
Another fee is used by miners. In order to incentives miners to include their transactions in a new block, Bitcoin and many other cryptocurrencies use a "transaction fee" system. This means that senders of transactions must include some amount of cryptocurrency with their transactions in order to cover the cost of including them in a new block.
Miners can choose which transactions to include in their blocks, and they will usually prioritize the ones with higher fees. However, they are not required to include any particular transaction, so it's possible for a transaction to go through without incurring any fees.
What is the role of transaction fees in cryptocurrency?
Transaction fees are important for several reasons. First, they are necessary to incentivize miners to secure the network and validate transactions. Second, they help to prevent denial-of-service attacks by making it prohibitively expensive for attackers to flood the network with spam transactions. Finally, transaction fees also provide a mechanism for releasing new tokens into circulation. For example, when a miner successfully validates a block of transactions, they are rewarded with a certain number of tokens plus all of the transaction fees from those transactions. This helps to ensure that new tokens are continually being released into the economy in a controlled manner.
UTXO stands for "unspent transaction output." It's a term used in the Bitcoin world to describe the current state of an unconfirmed bitcoin transaction.
When you send bitcoins, the bitcoins you're sending are broken into tiny pieces called "outputs." Each output is associated with a certain bitcoin address and a certain amount of bitcoins. When you send bitcoins, your wallet software will create one or more new outputs and attach them to the outgoing transaction. Those outputs will be assigned new addresses that nobody else knows about.
The unspent transaction output (UTXO) is simply the sum total of all those outputs that have not yet been spent. You can think of it as the current balance of all active bitcoin addresses. When you receive bitcoins, the UTXO grows larger. When you spend bitcoins, the UTXO shrinks.
A stablecoin is a type of cryptocurrency that is pegged to the value of another asset, such as the US dollar or gold. This helps to avoid some of the price volatility that is often seen with other types of cryptocurrencies.
There are a number of different stablecoins in development, but so far only a few have been released to the public. Tether is probably the most well-known stablecoin, and it is pegged to the US dollar. Other stablecoins include Basis, Carbon, and Havven.
ERC20 tokens are a specific type of Ethereum token that adhere to a set of standards established by the Ethereum Foundation. These tokens can be stored in an Ethereum wallet and used to interact with decentralized applications (dapps) running on the Ethereum network.
ERC20 tokens are created by issuing an ERC20-compatible smart contract. This contract defines the rules for how the token will operate, including such parameters as the total supply of tokens, how they can be transferred between accounts and any other functions that the token issuer wishes to include. Once issued, ERC20 tokens can be traded on decentralized exchanges or used as payment for goods and services within dapps.
I know it's a lot to take in just in one article, but I hope you are doing well and loving the new knowledge we put together for you.
Here's another gift for you.
Few questions that are very difficult in a very particular scenario.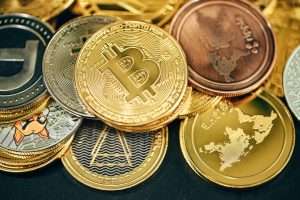 Questions About Cryptocurrency? "Expert"
Not all will understand these two questions about cryptocurrency yet, but for those who can, we hope you find something new to increase your knowledge!
We always provide you with the most trustable and the latest information to guide you into the "Crypto News" world.
Thank you for trusting us and reading our news and engaging with us.
How would you evaluate Super Protocol (blockchain project)?
Super Protocol is a blockchain project that seeks to provide a more secure and efficient way for businesses to conduct transactions. The project has the potential to revolutionize how businesses operate by providing a more secure and efficient way to conduct transactions. However, there are some areas that could use improvement, such as the lack of a working product and limited marketing efforts. Overall, Super Protocol is a promising project that has the potential to change the way businesses operate.
How many cryptocurrencies have their own blockchain?
As of right now, there are over 1,500 cryptocurrencies in existence. Many of them have their own blockchain. In fact, most new cryptocurrencies are launched on their own unique blockchain. This trend is likely to continue as more and more people become interested in cryptocurrency and blockchain technology.
Those who don't use their own blockchain are more likely to use the main blockchain such as Bitcoin, Litecoin, Ethereum, Bitcoin Cash, and Dash. There are a few other cryptocurrencies that are starting to create their own blockchains as well, such as ICON and NEO.
So here you have it!
The most frequently asked questions about cryptocurrency are clarified for you! We hope you have a better understanding now of what cryptocurrency is and how it works. If you have any other questions, feel free to ask us in the comments below or reach out on our social media (links below).
Thank you for reading and feel free to share this article with your friends!

Disclaimer. Cryptonewsmart does not endorse any content or product on this page. While we aim at providing you with all the important information that we could obtain, readers should do their own research before taking any actions related to the company and carry full responsibility for their decisions, nor this article can be considered investment advice
---
Sign up now: Get Smarter about Cryptocurrency with our weekly Free newsletter

Do you have any questions?  Reach out to us on any other social media, we will do our best to respond After you are Following Us  🙂
Instagram ——Twitter——-Facebook——Quora
Do you like the Article?  Please share   Thank you…
**This post contains affiliate links that will help me create new content without additional cost for you **
**I'm not a financial advisor **