In this article our comprehensive list of the best Crypto mining pools. Our experts have reviewed and rated each pool to help you find the most profitable and reliable ones for your needs.
The crypto industry depends on mining to survive. It also creates new currencies for circulation while validating current transactions. Simply put, a miner performs challenging math problems to validate the transactions. It is the method a miner uses to exchange his processing power and electricity for the block reward.
Things to Consider Before Choosing a Crypto mining pool
Having a list of pointers to keep in mind can greatly simplify the process of selecting a mining pool. Pool fees are an important consideration. Mining pools frequently charge fees to members in exchange for the ability to receive consistent mining rewards. These fees, however, can vary greatly. So, ensure the fee of a given pool isn't taking a big chunk of your profits. You should think about the reward structure of any pool you are thinking about joining. Mining pools distribute rewards differently, which may affect how much you can earn. So make sure you understand the payment structure chosen by your pool of choice.
The key mining platforms and utilities that simplify the mining process by eliminating much of the technical setup will be covered in the sections that follow.
Make sure you have a mining program and cryptocurrency wallet that support the cryptocurrency of your choice before starting.
Let's begin with some of the top mining platforms without further ado.
1. Ecos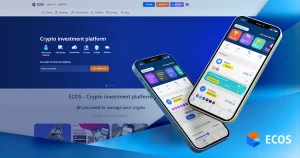 Ecos describes itself as a complete cryptocurrency investment platform. You might also believe the same thing after seeing their extent in the crypto sphere. It has an exchange, wallet, cloud mining agreements, and cryptocurrency portfolios for investors. Moreover, ECOS has a useful mobile app. Both Google Play and the App Store provide it.
Their cloud mining contracts, however, are just for Bitcoin mining. You can construct a contract with a value ranging from USD 75 to USD 50000 that is valid for 15 to 50 months.
They accept card payments as well as a few cryptos: BTC, ETH, XRP, and LTC.
Surprisingly, you can buy a Bitmain Antminer on Amazon. It will also mine Bitcoin at its mining site. Finally, you can have it transported to your home at your leisure. They pay for cloud mining and miner-hosting contracts on a daily basis. All full statistics are available in your account.
The ECOS platform's primary benefit is that they offer a free cloud mining contract for one month to test its platform!
Buy now on Amazon
2. StormGain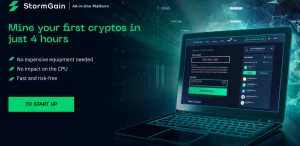 StormGain is one of the most straightforward mining platforms. It is free and includes a one-click mining technique that does not deplete your local resources. Nevertheless, there is a catch!
This is an all-in-one cryptocurrency platform, as stated. You have the ability to purchase, sell, trade, swap, and mine. Mining is restricted to Bitcoin and takes place on StormGain servers. Now the catch is, first, mining is done in a 4-hour shift. Hence, every four hours, you must click to activate the miner. Furthermore, if you aren't trading on StormGain, the mining speed is so terrible that you'd only be mining a minuscule 0.5 USDT (USD) per mining session.
Second, you must raise your trading level in order to increase your mining pace. In addition to the first level, there are six more. The highest level is VIP 3 for traders with a monthly trading volume of 75,000,000 USDT. With this level, you can earn about 16,000 USDT per month in free mining. Trade, exchange, and withdrawal fees vary according to the coin. But, there is no commission on the deposit. StormGain features native apps for both Android and iOS. It can also be used as a web application. Finally, StormGain is only appropriate if you do everything with cryptocurrency. If you want to mine on your own, keep reading to learn about the crypto platforms.
Buy now on Amazon
3. F2Pool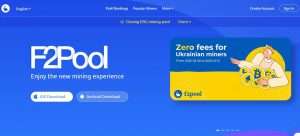 With over two million active users, F2Pool is one of the most popular mining pool providers available today. It began in 2013 as a Bitcoin mining pool based in China but has since expanded to support many other cryptocurrencies, including Bitcoin Cash, Monero, Litecoin, and Ravencoin. F2Pool can also be used to mine Ethereum Proof of Work. On F2Pool, you can use a variety of mining hardware, including ASIC miners and GPUs.
The overall hash rate will vary depending on which pool you join on the F2Pool platform. For example, F2Pool's Litecoin pool currently offers a hash rate of 63.79 TH/s, while its Ethereum Classic pool offers a lower hash rate of 26.1 TH/s. The rewards provided by F2Pool vary depending on the pool. The fee in F2Pool's Bitcoin pool, for example, is 2.5%. It should be noted that F2Pool's fees can be quite high at times. F2Pool also has a smartphone app available for iOS and Android devices.
4. SlushPool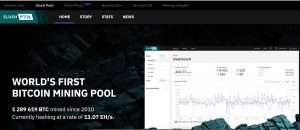 Braiins Pool is another excellent option for cryptocurrency miners, currently mining approximately 6% of all blocks. It is a large pool provider that only provides a Bitcoin mining pool. The platform was originally known as SlushPool in 2010, but it was renamed Braiins Pool in mid-2022. Furthermore, Braiins Pool has decided to close its ZCash mining pool in August 2022. Although Braiins Pool is only suitable for Bitcoin mining, it is still a good choice. Braiins Pool currently provides 12.28 EH/s and charges a 2-2.5% fee to its users. However, if you use the platform's autotuning firmware, Braiins OS+, you can enjoy a 0% mining fee within its Bitcoin pool. You can easily sign up for Braiins Pool by creating a username and password.
Braiins Pool has its own smartphone app for Android and iOS, but it is still known as SlushPool for the time being.
Buy now on Amazon
5. Binance Pool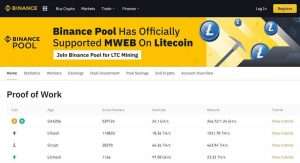 Binance is more than just one of the world's leading cryptocurrency exchanges. It also allows users to mine in pools managed by Binance Pool. Binance Pool provides Bitcoin, ZCash, Litecoin, Bitcoin Cash, Ethereum Classic, and Ethereum Proof of Work mining pools. Binance Pool provides 24/7 customer service, as well as daily rewards and mining tutorials. However, the payment structures of Binance's pools vary, so keep this in mind when choosing a pool to join. Binance Pool's fees vary as well, ranging from 0.5% to 0.25%. Binance Pool is accessible through your standard Binance account. Please keep in mind that this platform requires ID verification upon signup. While the Binance app now contains a mining pool wallet, no dedicated app is designed for mining alone via Binance Pool.
Buy now on Amazon
6. Poolin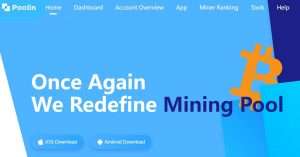 Poolin is a Chinese platform that provides mining pools for cryptocurrencies such as Bitcoin, Ethereum Classic, Litecoin, ZCash, and others. Again, hash rates differ depending on the pool you're in, as do the rewards you'll be eligible for. Poolin's payment structure varies depending on the pool you're in, so double-check these details before signing up. Poolin provides daily rewards for a consistent income stream, but unlike many other mining pool platforms, it does not provide customer service. But the site does have a help center that you can check out if you have any questions or issues.
7. Awesome Miner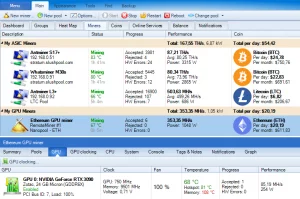 Awesome Miner, which is similar to Cudo Miner, is next on the list of crypto-mining platforms. It is a mining management application for Windows and Linux. It is free to use for two miners. Following that, its paid plan kicks in, with monthly payments starting at USD 4 and billing annually. Crypto mining could be a lucrative business for you. It also has a cloud subscription that allows you to manage your mining operations from anywhere with an internet connection. This service begins at USD 4 per month for ten miners, billed annually. If you have fewer than 400 mining rigs, you can try this service for free for 30 days.
There are also monthly plans that are slightly more expensive than yearly plans.
Awesome miner appears to be a great solution for large mining farms. It has extensive documentation and helps sections to assist users in any way possible.
Buy now on Amazon
8. Kryptex

With its simple setup, Kryptex hopes to bring mining to the masses. Just download the application, and check the expected earnings. Next, create an account and leave it running in the background while you continue to work on your computer as usual. Kryptex also includes a mining calculator for calculating revenue based on graphics card power. Krptex offers two mining options: Lite and Pro. Lite has little impact on your computer, whereas Pro consumes all computing resources in order to generate more revenue. Furthermore, you can choose whether to use the CPU or specific GPUs for mining, giving you greater control. The application is currently available for Windows and allows you to mine ETHW, ETC, RVN, ERG, UBQ, and XMR. You can also choose to pool mine with Kryptex's own pool, which guarantees consistent returns. Withdrawals can be made in bitcoins or cash, with a minimum payout of $0.5. Furthermore, the fee section clearly shows the payout limits and withdrawal fees. Finally, payouts are secured by two-factor authentication, and any issues can be reported on their Telegram channel.
9. Bitfly

Bitfly allows you to mine six cryptocurrency coins: ETH, ETC, ZEC, BEAM, RVN, and ERG. Each one has a unique domain name and set-up instructions that correspond to the coin. It charges a standard 1% pool fee regardless of the coin mined. It supports third-party monitoring apps on Android and iOS. Bitfly has configuration guides for each operating system, graphic card, and coin. When you click "Start Mining," you will be taken to the server information and mining software options. After that, simply download your preferred mining utility and install the mining software to begin mining. It operates mining servers in Europe, Asia, and the United States. Bitfly advertises instant payouts. It also has a Discord channel where miners can share information with one another. This can be beneficial if you are new to the mining industry.
Buy now on Amazon
10. CryptoTab Browser

This is an easier approach to mining cryptocurrency while browsing. It includes mining features. CryptoTab Browser promises to increase profits by automatically switching algorithms. Similarly, it guarantees no overheating or battery drain while using its in-house browser. All rewards are converted into bitcoin. The listed minimum payout is 0.00001 BTC. You can earn through your mining hardware as well as receive a commission for referrals. This browser is compatible with Windows, Mac, Android, and iOS devices. This is recommended for non-technical users who want to get a taste of cryptocurrency mining.
What is a Crypto mining pools?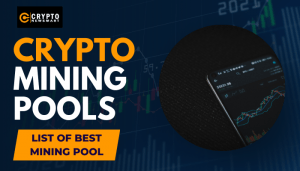 A mining pool is a group of cryptocurrency miners who pool their computational resources across a network in order to increase the likelihood of finding a block or otherwise successfully mining for cryptocurrency.
How do Crypto mining pools work?
Individually, mining pool participants contribute their processing power to the effort of finding a block. If the pool is successful in these efforts, they are rewarded, usually in the form of the corresponding cryptocurrency. Rewards are typically distributed among those who contributed based on the proportion of each individual's processing power or work relative to the entire group. Individual miners may be required to show proof of work in some cases in order to receive their rewards. The rewards are usually distributed among the miners in accordance with the agreed-upon terms and their respective contributions to the mining activity. Anyone interested in profiting from cryptocurrency mining has the option of going it alone with their own dedicated devices or joining a mining pool where multiple miners and their devices combine to increase their hashing output. Attaching six mining devices, each of which offers 335 mega hashes per second (MH/s), for example, can generate a total of 2 giga-hashes of mining power, resulting in faster hash function processing.
Are Crypto mining pools safe?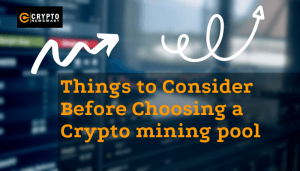 The greater the proportion of cryptocurrency enthusiasts who use mining pools, the more dangerous this type of mining is likely to become. The reason is simple: the potential rewards grow in proportion to the number of participants and their hash power, as does the incentive for some parties to profit from it in less-than-legal or acceptable ways. Large cryptocurrency mining pools exist so that people who do not have the financial and computational resources to mine competitively can pool their resources and increase their chances of being awarded a coin. While it is possible to mine alone, it is extremely unlikely that you will receive any rewards. Participating in a mining pool improves your chances of being rewarded. It is up to you to decide whether large mining pools are harmful to cryptocurrencies. However, as Bitcoin's popularity and rewards have grown, control has shifted to entities with more funding and computational power. Large-scale cryptocurrency mining operations are mostly used to mine coins that rely on proof-of-work validation. These are facilities designed to eliminate competition and monopolize the mining industry. Small-scale miners are forced to join mining pools created by these large mining firms in order to gain access to cryptocurrencies, further increasing centralization. As a result, mining pools have both advantages and disadvantages, depending on your goals and preferences. 
Pros and Cons of Mining Pools 
Pros

Faster Processing
Increased chance of rewards
Costs

Cons

Centralization and Control
Profit-Sharing and Fees
Increased Energy Use
Is Crypto mining in pools profitable?
Joining mining pools has numerous advantages. For the time being, I will only concentrate on increasing the overall hash rate percentage. We are all aware that if the probability of success is p, then the probability of failure is (1-p). Assume a miner controls fraction "p" of total mining power and has a probability of "p" to mine the new block, then the probability of not mining the new block is (1-p).
Assuming you are familiar with Bernoulli's distribution in probability, variance = p* (1-p).
In a year, how many blocks are mined?
1 block every 10 minutes

1 hour equals 6 blocks.

One day equals 24 * 6 blocks.

365 * 24 * 6 blocks = one year.

We find that the miner who has prob. p of mining the new block is expected to mine 365 * 24 * 6 * p blocks per year.

The variance is then 365*24*6*p* (1-p).

Now we'll compute the standard deviation (in blockchain, the standard deviation is the amount by which this miner's reward deviates from the expected reward). I hope you are aware of the mining reward system.

standard development = [sqrt]

Expected return/variance

365*24*6*p* = 365*24*6*p* (1-p)

return on investment = 365*24*6*p

standard deviation = [sqrt]365*24*6*p*(1-p) / 365*24*6*p

Assume a miner owns 0.01% of the network's hash rate, i.e. p = 0.0001.

standard deviation = 0.4364 or 43.64% for hash

Assume a miner owns 0.01% of the network's hash rate, i.e. p = 0.0001.
Standard deviation = 0.4364, or 43.64% for the hash rate of 0.01%. (by putting the value in the above formula)
The solution to this deviation and variance is to join mining pools and collaborate to increase the overall hash rate percentage, which is exactly what is happening now.
 Crypto pools stats
What exactly are "pools stats"?
Pools stats refer to various statistics and information on cryptocurrency mining pools, which are collections of miners who pool their processing power to raise the likelihood that they will discover a block and receive a reward. Real-time mining pool statistics are available on a number of websites, including Poolin, F2Pool, and ViaBTC. For miners looking to analyze the performance of several mining pools and select the one that delivers the best rewards and fees, these stats can be helpful.
Here is a list of the best websites to have a look at.
The advantages of Crypto mining
If you're a crypto-miner, it can be a lucrative side hustle. With little analysis, you can generate passive income from your computing power without doing anything. Get–Set–Forget. Then, as miners are the primary contributors to making decentralized finance a reality, you can be an important part of the crypto movement.
Finally, you have the ability to veto any changes to network protocols.
Who can Mine Cryptocurrency?
Anyone with a supported wallet, an internet connection, and powerful hardware can begin mining cryptocurrencies in general. It also depends on the cryptocurrency you intend to mine.
You can choose between solo mining and pool mining.
In solo, you solve the hash by yourself, whereas in the pool, it's more of a group effort. Similarly, it is determined by the type of hardware used, whether it is a CPU, GPU, or professional ASIC (application-specific integrated circuit) miner.
Please read this guide to learn more about cryptocurrency mining.
Final Thoughts
One of the best ways to generate passive income is through cryptocurrency mining. It not only keeps the blockchain network running smoothly, but it also aids cryptocurrency circulation. While some mining pools require a significant amount of computational power, the best mining pools do not necessitate the purchase of expensive hardware in order to mine Bitcoin or other digital coins.
This post contains affiliate links that will help me create new content without additional cost to you
I'm not a financial advisor
Disclaimer. Cryptonewsmart does not endorse any content or product on this page. While we aim to provide you with all the important information that we can obtain, readers should do their own research before taking any actions related to the company and carry full responsibility for their decisions, nor this article can be considered investment advice.
Sign up now: Get Smarter about Cryptocurrency with our weekly Free newsletter
Do you have any questions?  Reach out to us on any other social media, we will do our best to respond After you are Following Us  🙂
Instagram ——Twitter——-Facebook—–Tiktok
 Here we will Share another post you might like