Crypto Mining from Home in 2023 Is that possible?
With the rise of cryptocurrencies, more and more people are interested in mining from their own homes. By 2023, it is expected that crypto mining from home will be more accessible than ever before. With the right tools and resources, anyone can become a crypto miner and start earning money from their own home.
Cryptonewsmart will provide you with all of the information you need to get started with cryptocurrency mining from home. We will cover topics such as what hardware is needed, how to set up your miner, and how to maximize your profits. We are going to start with the cheapest easiest and most profitable.
What do we need in order to Start Crypto mining from home?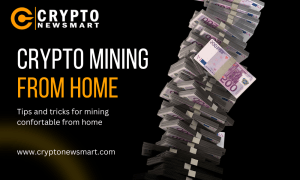 You will need specialized mining hardware, such as an ASIC (application-specific integrated circuit) or GPU (graphics processing unit) that is designed to mine the specific crypto that you want to mine. The software that is compatible with your mining hardware and the cryptocurrency that you want to mine. This software is used to control and monitor your mining hardware and to communicate with the mining pool or network.
What is a mining pool?
A group of miners who combine their hash power to increase their chances of finding a block and earning a reward that you will deposit in your crypto wallet. The tiny cost that mining pools often charge (usually a percentage of the reward) for their services is frequently more than made up for by the higher likelihood of receiving a payout. Depending on the pool and the cryptocurrency being mined, pool fees can change. When mining in a pool, miners often use mining software to connect their mining hardware to the pool's server. After a block is found, the reward is divided among the pool members in accordance with their contributions to the pool. The pool's server assigns the work (hashing problems to be solved) to each miner in the pool. Just keep in mind that Mining hardware requires a lot of power, so you will need to ensure that you have a reliable and affordable source of electricity to power your mining operation.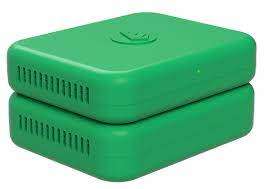 Evergreen is the best option for you. It only uses 15 W of electricity, less than a computer, and could make 0.10 XCH (chia) per month with one device. If you decide to go big, you could buy the starter kit, which will make you 1.95 XCH per month. Evergreen Miner V2 is a specific type of mining application designed for hard drive mining. Evergreen Miner is a popular hard-disk mining software. It can mine cryptocurrencies using its hard disk space as a computing resource. Evergreen is a quiet mining rig that doesn't produce a lot of heat and is inexpensive to run; we recommend it for mining chia (XCH). It is very easy to set up. You need to download an app and follow the instruction.
Instructions
2. Bobcat mining Helium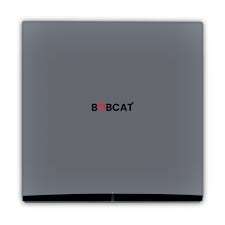 Buy now on Amazon
The second option is radio-wave crypto mining. Helium miners; remember that this hotspot with radio waves was once the crown jewel of cryptocurrency mining, bringing mining to the masses. Helium continues to push towards the Solana blockchain, and they're actively building for it as they have been for a while. The current price of helium is 2.86 dollars; that is the profit you could make in a month if you decided to buy Bobcat miners.
A Bobcat miner, similar to Evergreen, is a device that uses radio waves to mine helium. You need to download an app, follow the instructions, and you will start mining in seconds. The issue with this device is that the wait time can be lengthy at times, but they recently switched manufacturers from Wuhan to Shenzhen, which should make them faster. Let's now discuss packing. A troubleshooting guide will be the first thing you see when you open the box. The kit also includes a few screws in case you wish to put The Miner on the wall but are having connectivity issues. The Bobcat Mini's factory-installed antenna is a complete DBI antenna. That includes a 2.3 DBI antenna. Moreover, Bobcat has a pin that is quite helpful if you wish to activate your monitor in Bluetooth mode for pairing or diagnostic analysis.
Helium miners pros and cons
Here are some potential pros and cons of Helium miners:

Pros:

Passive income: Helium miners can earn HNT (Helium Network Token) for supporting the network by providing coverage and validating transactions. This can be a way to earn a passive income.
Low power consumption: Helium miners are designed to be energy-efficient, with some models consuming less than 5 watts. This makes them a cost-effective way to earn HNT.
Decentralized network: The Helium network is designed to be decentralized, meaning that no single entity has control over the network. This makes it more resistant to attacks and provides a more reliable network for IoT devices.
Community-driven: The Helium network has a strong community of developers and enthusiasts who are actively working to improve the network and create new use cases for it.

Cons:
High upfront cost: Helium miners can be expensive, with prices ranging from several hundred dollars. This can be a significant barrier to entry for some people.

Limited coverage: The Helium network is still growing, and coverage may be limited in some areas. This can impact the ability to earn HNT or participate in the network.

Technical expertise required: Setting up and maintaining a Helium miner can require some technical knowledge, which may be a barrier for some people.

Network stability: As with any new technology, the Helium network may experience issues with stability or reliability as it continues to grow and evolve.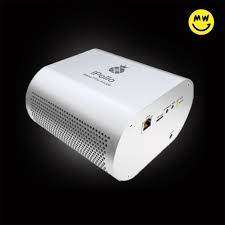 Buy now on Amazon
A miner made specifically for mining ETH cryptocurrency. It is a portable and potent miner that can mine ETH at a hash rate of up to 21 GPS (gigawatts per second). The miner uses the memory-hungry Cuckatoo31+ hashing method, which necessitates a fast memory interface. A high-performance FPGA chip that is tailored for mining the Cuckatoo31+ algorithm powers the iPollo G1 Mini. The miner has an intuitive web-based interface that makes it simple to set up and keep track of the device. It is an energy-efficient alternative for mining grit because it only uses 140 watts of power. All things considered, the iPollo G1 Mini is a fantastic option for anyone looking to mine ETH with a strong and effective miner.
Other ways to mine Crypto
You will like to mine crypto but you don't want to buy any expensive hardware?
Here is a list of alternative mining without equipment.
Cloud Mining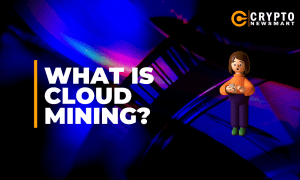 Basically, a cloud mining service provider lets you rent computing power and use it to mine cryptocurrencies. In this manner, you will only be required to pay the rental cost rather than purchasing any expensive hardware.
What are the best and most profitable cloud mining service providers in Europe?
Users can purchase and sell hash power for multiple cryptocurrencies on the NiceHash marketplace for cloud mining cryptocurrencies. The computer power required to mine cryptocurrencies is referred to as hash power. Users can either buy or sell hash power on NiceHash. To mine bitcoins, buyers can buy hash power from sellers, and sellers can resell their hash power for a profit. Bitcoin, Ethereum, Zcash, and other cryptocurrencies are supported by NiceHash.One benefit of using NiceHash is that users can mine a number of cryptocurrencies without having to spend money on pricey mining equipment. Users can just rent hash power from other users on the platform as an alternative. In order to help users maximize their income, NiceHash also boasts a user-friendly design and provides a number of tools and functions.
Offering a multi-algorithm mining technique is one of Multimining's distinctive advantages. With this method, users can mine several cryptocurrencies at once on the same hardware. This could increase mining profitability and cut down on downtime. Additionally, Multimining provides a user-friendly interface that makes it simple for users to move between different cryptocurrencies and track their mining progress. Furthermore, a range of payout methods, including Bitcoin, Litecoin, and Dogecoin, are available.
Many cryptocurrencies, including Bitcoin, Ethereum, Litecoin, Dogecoin, and others, are supported by Eobot. Eobot's ability to mine numerous cryptocurrencies simultaneously is one of its distinctive characteristics, which can help customers optimize their profits. Eobot also provides a selection of mining alternatives, including as cloud mining, GPU mining, and CPU mining. Eobot provides a variety of different services in addition to mining, including a cryptocurrency exchange, a faucet, and a cloud folding service. Users of the cloud folding service can contribute their mining resources to the battle against diseases like cancer and Alzheimer's. In order to help consumers maximize their income, Eobot has a user-friendly design and offers a variety of tools and capabilities.
Cudo Farm's ability to provide a decentralized mining approach is one of its distinguishing features. This means that the platform mines cryptocurrencies by utilizing the computing power of multiple devices across the network rather than relying on a single centralized server. This method can aid in increasing mining efficiency and decreasing downtime. Cudo Farm also has an easy-to-use interface that allows users to track their mining progress and manage their mining settings. It also provides a variety of payout options, including Bitcoin, Ethereum, and others. Cudo Farm also includes a number of additional features, such as automatic switching between different mining algorithms to maximize profits, customizable mining schedules, and a mobile app for easy management.
Pros and Cons Of Cloud mining
Pros:

Low costs
Flexibility: users can mine cryptocurrencies without having to manage and maintain the hardware themselves.
Access to a wider range of cryptocurrencies

Cons
Risk of fraud: there have been instances of cloud mining providers being fraudulent.

Limited control: Users don't have the ability to customize and optimize their mining operations.

Potential lower profits

Dependency on the provider: maintenance issues, and other technical problems. This can lead to a loss of mining time and potential profits.
What could happen to the Crypto mining industry in 2023?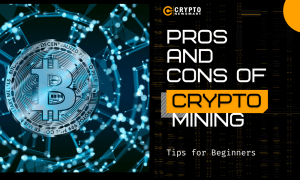 Although it is difficult to forecast the direction of cryptocurrency mining, the following trends and innovations might materialize in 2023:
Increased focus on energy efficiency: As problems about energy use and climate change continue to grow, more attention may be paid to creating mining techniques and equipment that are more energy-efficient. This could result in the creation of new, less energy-intensive mining algorithms.

The emergence of new cryptocurrencies: New coins that are intended to be more resistant to mining centralization may appear as the bitcoin industry continues to develop. This might result in new mining machinery and algorithms created especially for these new cryptocurrencies.

Continued regulatory scrutiny: Cryptocurrencies continue to gain mainstream attention, and there may be increased regulatory scrutiny of mining activities. This could impact the legality and profitability of mining in some regions.

Evolution of mining pools: Mining pools may continue to evolve and become more sophisticated, potentially incorporating new technologies like artificial intelligence and machine learning to optimize mining operations.

Increased use of cloud mining: As a more convenient and affordable way to mine crypto, cloud mining, in which users rent mining hardware and hash power from cloud mining services, may gain popularity.

Shift towards proof-of-stake: Some cryptocurrencies may shift from proof-of-work to proof-of-stake consensus mechanisms, which could reduce the need for energy-intensive mining activities.
Cryptocurrency mining's future in 2023 and beyond will be influenced by a number of variables, such as technology advancements, legislative changes, and market demand. To be profitable and competitive, miners will need to keep knowledgeable and flexible to these changes.
This post contains affiliate links that will help me create new content without additional cost to you
I'm not a financial advisor
Disclaimer. Cryptonewsmart does not endorse any content or product on this page. While we aim at providing you with all the important information that we could obtain, readers should do their own research before taking any actions related to the company and carry full responsibility for their decisions, nor this article can be considered investment advice.
Sign up now: Get Smarter about Cryptocurrency with our weekly Free newsletter
Do you have any questions?  Reach out to us on any other social media, we will do our best to respond After you are Following Us  🙂
Instagram ——Twitter——-Facebook——tiktok
Related articles