Will Cryptocurrencies ever rule the world? This is another million-dollar question, isn't it? Let's find out together
Hello and welcome back to this new article.
This week we wanted to cover a few articles with a hot topic and this is the first published.
Are you ready to dig a few deeper points?
Yes, you are! Of course.
After this short introduction is time to start!
Cryptocurrencies have gained a lot of traction over the past few years, with more and more people investing in them. This is due to their immense potential for wealth creation, as well as the fact that they are decentralized and not controlled by any government or central authority. At least for now. As we cover in our previous article ( https://cryptonewsmart.com/evidence-ftx-was-a-deep-state-plan-to-capture-crypto/), the deep state and the governments are trying to make it their playground, collapsing everyone in their way. But of course, we hope this will never happen!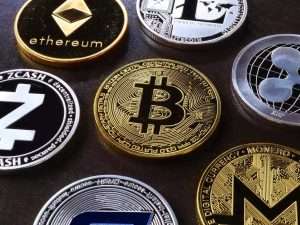 People often ask if cryptocurrencies will ever truly rule the world, and while it's impossible to answer this question definitively, we can make some educated guesses based on current trends.
For starters, it's important to note that cryptocurrency adoption has been growing significantly in recent years. As more people become acquainted with digital currencies like Bitcoin, Ethereum, and Litecoin – interest in them increases exponentially. Also, with new technologies such as blockchain and smart contracts being developed, the utility of cryptocurrencies is rapidly expanding and making them more widely accepted.
Probably in a few years will come out a new blockchain technology for the fourth generation ( to see more check https://cryptonewsmart.com/cardano-what-is-it-why-is-so-popular/)
but for now, Cardano created the latest and Ethereum is working to upgrade its blockchain with the same technology. When will the fourth generation be out? Only time will tell. But improvers are out there to find new solutions when problems arise. Additionally, major financial institutions seem to be increasingly embracing digital currencies. Banks are beginning to open up accounts for crypto companies, and even international stock exchanges have started offering cryptocurrency trading. This will undoubtedly make the use of digital currencies much easier in the future. You can see its potential just by looking at all crypto market cap and it's worth billions of dollars. Ok, this year it dropped down about 80% but I think it's a physiological situation. It has grown so fast in so little time so it was a necessary pullback before the next run. And it will happen. We will probably see Bitcoin breaking the all-time high and run off the 100k mark.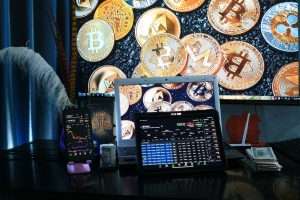 We can also look at past examples to see how far cryptocurrencies have come since their inception. Just a few years ago, Bitcoin was considered a fringe asset with no real purpose or use case. Nowadays, however, it's a legitimate asset class with a market cap of over $100 billion – an impressive feat considering its short lifespan.
The biggest challenge that cryptos face today is the lack of mass adoption. The technology is still quite new and not everyone has an understanding of how it works, which makes people hesitant to invest. This means that the future of cryptocurrencies depends on educating the public and helping them gain more confidence in this innovative technology.
All these signs point to an optimistic future for cryptocurrencies. With more and more people investing in them, major financial players embracing them, and their increasing utility – it's only a matter of time before they become mainstream. Whether or not they will rule the world is still uncertain, but one thing is certain: They're here to stay!
I know now we hit a few challenges like energy consumption to mine coins and so on.
But I'm sure the industry is working on better solutions and in a few years, cryptos will be much more efficient. Another point for cryptos is that it has also opened up new possibilities for people all around the world who don't have access to traditional banking systems or don't trust their governments. Cryptocurrencies provide an easy and safe way to transfer funds, and can often do so with significantly lower transaction fees than traditional methods. This opens up opportunities for people living in developing countries who may not have access to reliable banking services.
Crypto as part of investor's portfolio: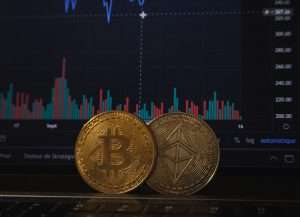 In the world of investing, cryptos are becoming an increasingly popular asset class. Many investors are now allocating a portion of their portfolios to cryptocurrencies in order to diversify their investments and potentially increase returns. Cryptocurrencies have been gaining momentum in the investing world and have become a notable addition to many people's portfolios. The surge in popularity is due in part to their decentralized nature, lack of physical trading boundaries, and the potential for increased returns. As more investors realize the potential benefits, they are starting to add cryptocurrencies as an asset class to their portfolios as a way to diversify their investments. With cryptos having different characteristics compared to other traditional assets, some prudent investors are attempting to capitalize on the opportunity afforded by these new digital currencies. No matter what your aim is with cryptos, it's important to research and understand them thoroughly before investing any hard-earned money. The future for digital currencies looks bright. With more and more people using them every day, it's only a matter of time before crypto becomes mainstream. For those looking to invest in space, it's important to do your research and understand how this technology works before diving in head first – but overall, the outlook is positive!
Crypto opened up a new way to invest. From stacking pools to trading. Even lending became a very remunerative investing method of up to 15% of revenue per year.
The gaming industry got advantages from the cryptos. From Ethereum-based tokens being used to power a range of gaming experiences to the increasing value of in-game assets, the gaming industry is benefiting from the emergence of cryptocurrencies and blockchain technology. The advent of digital currency opens up new opportunities for game developers and players, offering them increased security, transparency, and efficiency when it comes to payments and transactions within their worlds. Cryptos have enabled developers to create new business models, providing gamers with the chance to buy and trade virtual assets without needing intermediaries or relying on centralized platforms. This has opened up huge potential for monetizing gaming content in new ways, leading to a more profitable ecosystem for all involved parties. Furthermore, as compared to traditional methods, cryptos greatly reduce transaction costs for both developers and players which can result in bigger margins for everyone. It's clear that cryptos are having a major impact on the gaming industry, powering greater levels of innovation in monetization and gameplay experiences.
Additionally, by using cryptocurrencies instead of fiat currencies, users are provided with anonymity – a major benefit touted by many cryptocurrency enthusiasts.
Another sector that has benefited a lot from crypto is NFT.
It's no secret that the rise of cryptocurrency has revolutionized the world economy, but one area that has particularly profited from its emergence is the field of Non-Fungible Tokens (NFTs). As more and more people become aware of its potential for use in trading digital assets and art, greater attention is being paid to this revolutionary sector. NFTs are particularly appealing to younger generations of art collectors because they offer a much lower barrier to entry than traditional art marketplaces. Not only can artists easily create their own tradable artwork, but brokerage fees are significantly reduced due to the elimination of galleries and agents from the sales process. In addition, these tokens provide the added bonus of allowing buyers to securely prove ownership rights over their purchases. Thanks to NFTs, it's never been easier or more affordable to purchase your favorite works of art while having peace of mind that you're getting authentic pieces at competitive prices.
Now the big boom ended ( see why https://cryptonewsmart.com/crypto-mining-is-officially-dying/) but we don't know if it will recover in the future or if it will evolve into something new to gain new attractiveness to make investors hot in the " new business".
As I told you before, only time will tell. Now I can even say time and we will tell you what will be the future of the cryptos as we are here giving you the latest and most trustable news from the wildness of the field!
Remember to follow us for the " new thing" when it happens.
What can go wrong with cryptos?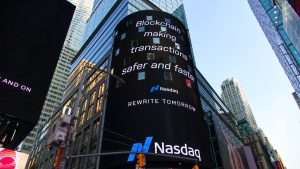 That's a nice scenario to keep in mind. Cryptocurrencies can be both fascinating and intimidating, and the biggest threat to traders is the worry of something going wrong. Not only can markets quickly turn against them and erode their investments, but there's also a real risk of scams, such as Ponzi or pyramid schemes, or fake trading platforms that are not subject to regulation. Because cryptocurrency transactions are anonymous and near instantaneous, it's difficult for law enforcement to intervene when users find themselves in these situations. Knowing this, crypto traders should maintain high levels of diligence to avoid getting caught up in unscrupulous activities. Additionally, hacking is a serious concern for online wallets and exchanges because significant losses often occur before security measures can take effect. Although countless resources exist to educate novices wishing to enter the volatile arena of cryptocurrency trading, they should remain wary if they want to protect their financial assets.
These potential risks should not deter investors entirely though–crypto offers a unique opportunity to diversify portfolios and gain exposure to an emerging asset class. For one thing, the market is incredibly volatile and prices can swing wildly from day to day – and even hour to hour. Cryptocurrency investors must be prepared for sudden drops in value that could wipe out their entire holdings overnight. There's also the issue of security; many online wallets and exchanges have been hacked over the years, resulting in losses for their customers.
One potential risk is that governments around the world may impose regulations on cryptos at any time which could have a major impact on the industry. Without proper laws and regulations, it can also be difficult for investors to predict how their investments will fare over time. Furthermore, as this technology develops there is always the potential for malicious individuals or groups to take advantage of unsuspecting users or find new ways to exploit weaknesses in the system. Despite these risks, many investors continue to be interested in cryptos and closely monitor developments within this space.
These potential risks should not deter investors entirely though–crypto offers a unique opportunity to diversify portfolios and gain exposure to an emerging asset class. Even with its risks, cryptocurrencies have the potential to be a lucrative investment. Those who are willing to research and understand the market dynamics, as well as take all necessary precautions when investing, can reap significant rewards in this rapidly-evolving asset class.  With crypto art, you get all that plus the chance to purchase authentic digital artwork from creatives around the world.
Last but not least point.
Publicly governments somehow block or oppose cryptocurrencies but in their assets you find cryptos. For example, China is the biggest holder of all.
Pundits and investors alike have been enthralled by the cryptocurrency enigma with wild price predictions ranging from mainstream adoption to irreversible boom and bust cycles. But the Fidelity Crypto Asset Survey, conducted from over 400 institutions, goes beyond general speculation and speaks volumes about the progress of this nascent market. Their research revealed an astonishing 47% of those surveyed are actively considering investing in digital assets within their investment portfolios due to strong confidence in crypto use cases such as remittance payments, international trade, global payments, consumer currencies, private banking, and more. This new data points to a strong blockchain economy that is breaking free from traditional finance. With proper guidance, it could prove to be life-changing for many businesses and everyday individuals.
At CryptoNewSmart we specialize in providing our readers with up-to-date information on cryptocurrency trends and developments. We also provide reviews and ratings of the best crypto trading platforms, exchanges, wallets, and resources so that you can make an informed decision when investing in cryptocurrency. We are also a reliable source of news related to regulations and advancements in blockchain technology. Our ultimate goal is to keep our readers informed on the latest developments in the crypto world and enable them to become successful traders.
So that's all for now.
Hopefully, you find this article interesting and you may want to share it with your friends and family.
Thanks for reading!
Stay tuned for more updates and information about the crypto world
If you have any questions or comments, please feel free to contact us. We are here to help to make sure that you understand all the risks and opportunities associated with cryptocurrencies. Thank you again for taking the time to read this article and we look forward to hearing from you soon.
Have a great day and see you in the next article!
Disclaimer. Cryptonewsmart does not endorse any content or product on this page. While we aim at providing you with all the important information that we could obtain, readers should do their own research before taking any actions related to the company and carry full responsibility for their decisions, nor this article can be considered investment advice.
---
Sign up now: Get Smarter about Cryptocurrency with our weekly Free newsletter

Do you have any questions?  Reach out to us in Quora or any other social media, we will do our best to respond After you are Following Us  🙂
Instagram ——Twitter——-Facebook——Quora
Here we will Share another post you might like